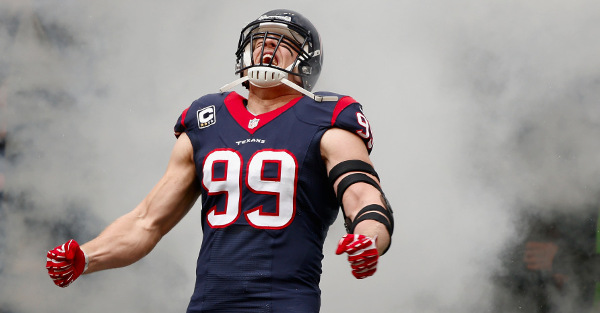 Peyton Manning #18 of the Denver Broncos drops back to pass during the first half of the game against the Houston Texans at Reliant Stadium on December 22, 2013 in Houston, Texas. *** Local Caption *** Peyton Manning
Houston Texans defensive end JJ Watt is a large man which, oddly enough, sounds like a large understatement.
The 6-foot-5, 290-pound reigning Defensive Player of the Year needs to consume a lot of food to maintain that nightmare physique. It's just amazing what "a lot" means to Watt's caloric intake.
In an interview with GQ, Watt revealed his diet (if you can call it that) which consists of 9,000 calories a day. According to the USDA, the average adult male (ages 19+) should consume 2,500 to 3,000 calories per day. Then again, we know Watt is far from being an average adult male.
"I'm not strict on my calorie count, I just pay attention to my body. Over the years I've learned a lot about nutrition and about myself, so it's a lot more based on feel. I stopped putting a number on it because people were analyzing it too much."
I guess that's fair, because who's going to tell him to put down the fork? But where does it all go?
Here's a breakdown of his daily intake, which may make you lose your lunch.
Breakfast
Oatmeal with blueberries and strawberries
Six eggs
Banana and apple
Second breakfast
Four eggs
Two slices of wheat toast with peanut butter and banana and honey
Two slices of wheat toast with jelly
Lunch
Three chicken breasts with whole wheat pasta and Italian dressing
Side of broccoli
Second lunch
More chicken breasts with mashed sweet potatoes
Steamed carrots
Dinner
Lamb chops with whole wheat pasta
Grilled asparagus
Second dinner
Filet with whole wheat pasta
Steamed broccoli
Looks like a two weeks worth of groceries for me.
[h/t Business Insider]