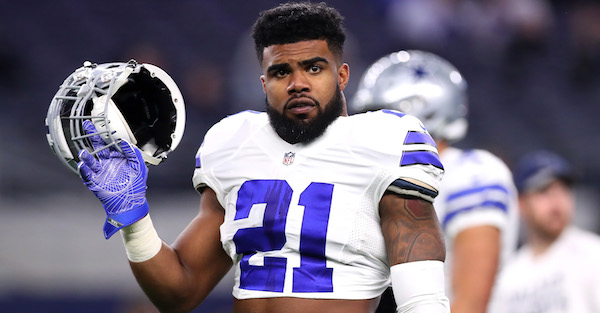 Tom Pennington/Getty Images
ARLINGTON, TX - DECEMBER 18: Ezekiel Elliott #21 of the Dallas Cowboys warms up on the field prior to the game against the Tampa Bay Buccaneers at AT&T Stadium on December 18, 2016 in Arlington, Texas. (Photo by Tom Pennington/Getty Images)
Ezekiel Elliott is set to appeal his six-game suspension to the NFL and, even if that was always going to happen, it is going to be a massive story line for the league. The Dallas Cowboys running back (and his agent) have not been shy in going after the league for what they feel is an unjust punishment for Elliott but, on Friday, his case seemingly got more difficult to win.
In short, Elliott's accuser will not be available to testify at the appeal hearing after Harold Henderson, who is the appeals officer, decided he would not require the NFL to make her available.
While that is ugly enough for Elliott's chances, Henderson then went a step further in failing to allow notes and interviews that surround her testimony to the league.
Because Elliott's appeal likely will center on accusations against Thompson's credibility, this is a brutal blow for his legal team and his chances to win the appeal. Having full knowledge of these limitations ahead of time probably helps but, at the same time, there isn't really a scenario in which this actually helps Elliott and that could foreshadow a less than stellar result.
Stay tuned as more information becomes available.