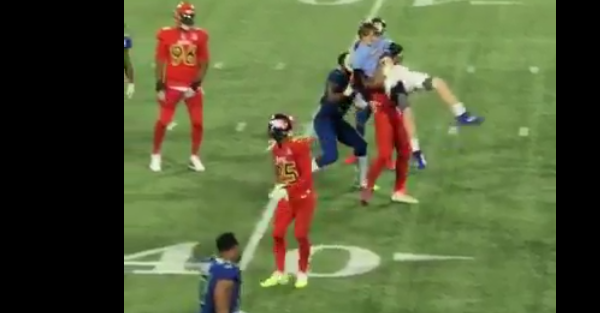 Twitter Screen Shot
Ezekiel Elliott might have a future on the defensive side of the ball.
When a fan — make that, idiot — stormed the field during the Pro Bowl, Elliott gave chase, caught up and playfully took the field stormer to the ground. Dez Bryant even joined in on the "fun."
Of course, the guy was taken into custody once security caught up to him.
Really, this fan is lucky that Elliott and the others were in a playful mood. That dude could have gotten bowled over and held down — hard — and the players would have been well within their rights to do so. Who knows what someone's intentions are when they storm the field?
Luckily, this was just some numskull after his 15 minutes  of fame. And, he got much less than that.