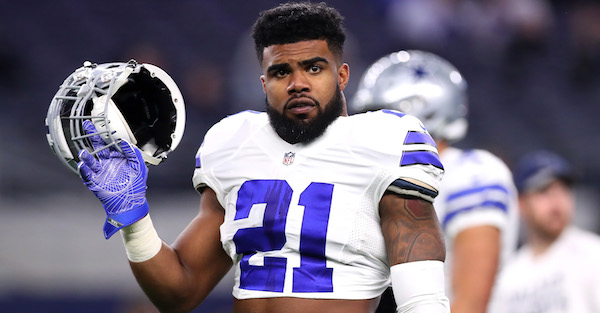 Tom Pennington/Getty Images
ARLINGTON, TX - DECEMBER 18: Ezekiel Elliott #21 of the Dallas Cowboys warms up on the field prior to the game against the Tampa Bay Buccaneers at AT&T Stadium on December 18, 2016 in Arlington, Texas. (Photo by Tom Pennington/Getty Images)
NFL Network recently revealed "The Top 100 Players of 2017," and one of the biggest surprises on the list was running back Ezekiel Elliott being ranked above Le'Veon Bell.
Elliott checked in at No. 7 on the list and Bell was No. 9. They were the only two running backs in the top 10.
Minnesota Vikings running back Latavius Murray made an appearance on NFL Network's Good Morning Football, and he was asked about the list by host Kyle Brandt.
"You wanna base it on this season?" Murray asked. "But just from my perspective, you know, to me, I had to see a little more. It wouldn?t be my vote to put Zeke over Le?Veon."
Related: Car accident knocks Ezekiel Elliott out of Cowboys practices
Brandt said he'd have David Johnson ranked higher than both, and he asked Murray if Elliott's ranking had anything to do with the fact that he played for the Dallas Cowboys, who are the most prestigious franchise in the league.
"It could be, honestly," Murray said. "You know, one of the most beloved teams in the NFL. It definitely could be. But hey, the players vote."
Murray and Brandt also agreed that Dallas having the top offensive line in the league helped Elliott.
Elliott is entering his second year in the league, and while he had a great rookie season, Bell has produced more and been a more consistent threat over the last several seasons with the Pittsburgh Steelers.
If Elliott has another season like last year, he might find himself even higher on the Top 100 list for the 2018 season.
(h/t All 22)