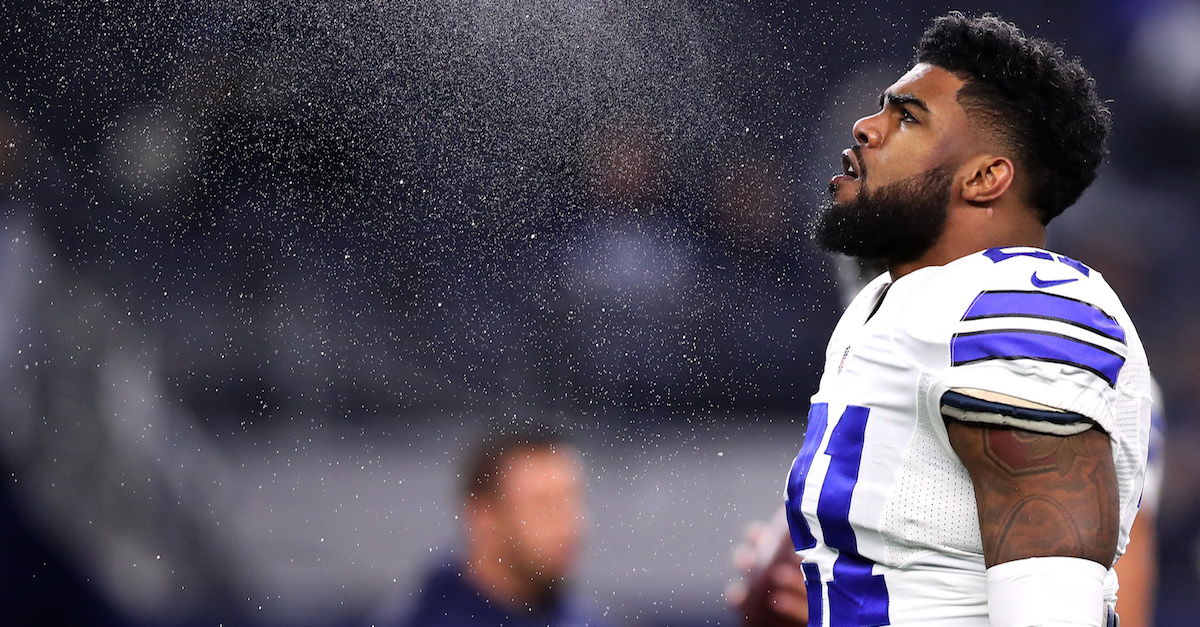 Tom Pennington/Getty Images
ARLINGTON, TX - DECEMBER 18: Ezekiel Elliott #21 of the Dallas Cowboys warms up on the field prior to the game against the Tampa Bay Buccaneers at AT&T Stadium on December 18, 2016 in Arlington, Texas. (Photo by Tom Pennington/Getty Images)
If you think all running backs are replaceable, perhaps you've forgotten what Ezekiel Elliott did in 2016.
With 1,631 rushing yards and 15 rushing touchdowns, the Cowboys' star tailback had one of the greatest rookie seasons in NFL history.
However, he's facing a six-game suspension and is in the middle of an appeal.
Elliott is a vital cog in the Dallas offense, and the Cowboys would love to have him in uniform and ready to go when they host their rival, the New York Giants, on Sunday at AT&T Stadium.
But New York's head coach, Ben McAdoo, doesn't seem too concerned about Elliott potentially playing in their Week 1 matchup. He told SNY his defense would swarm the backfield regardless of who takes the carries for Dallas.
"All backs run the same when there's nowhere to run," McAdoo said.
Despite Elliott's outstanding season last year, New York held its own against the star running back. In the two games they saw Elliott, the Giants held him to 3.6 yards per carry, well below his average of 5.07 yards per carry, and only one touchdown.
But Elliott is a great player, and the last thing you would want to do, if you're McAdoo, is provide Dallas' star player with more fuel to add to his fire … assuming he plays.