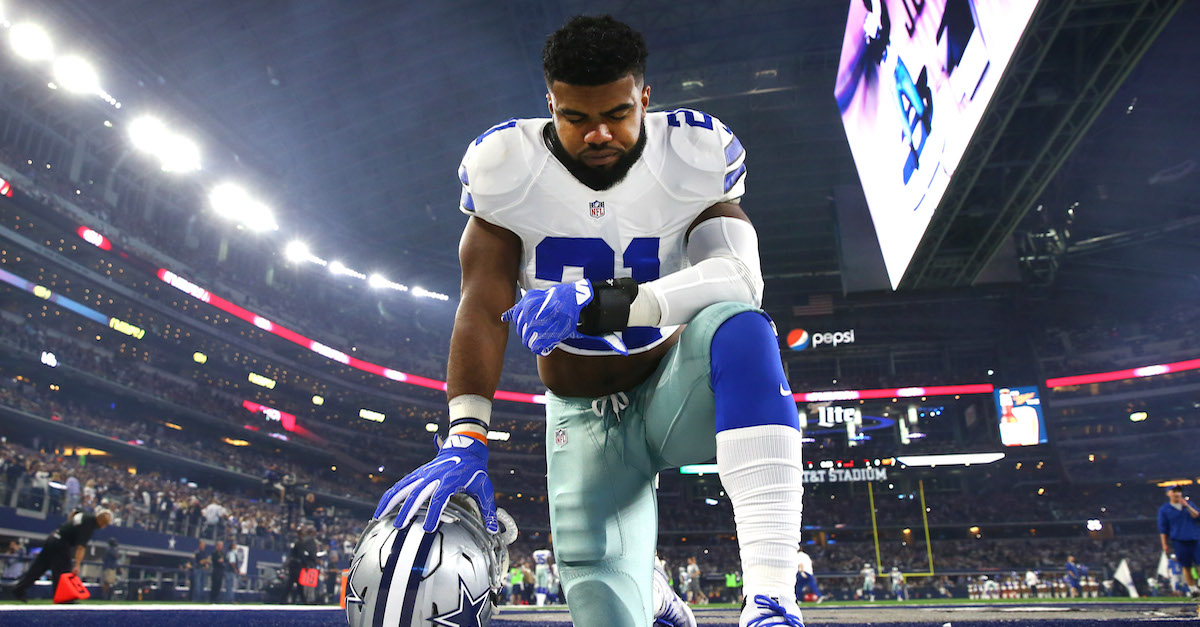 Tom Pennington/Getty Images
ARLINGTON, TX - DECEMBER 26: Ezekiel Elliott #21 of the Dallas Cowboys takes a knee in the end zone before the Cowboys played the Detroit Lions at AT&T Stadium on December 26, 2016 in Arlington, Texas. (Photo by Tom Pennington/Getty Images)
NFL owners reportedly want Commissioner Roger Goodell to hold Dallas Cowboys running back Ezekiel Elliott accountable for his actions, according to Dan Patrick.
"What is happening is, other owners are saying to the Commissioner, 'Hey, you punished us, make sure you punish the Cowboys here," Patrick said. "That's sort of what is going on behind the scenes. And I said, 'If you're the Players' Association, will the Players' Association asking this person, does he know if the Players' Association would stand up on Ezekiel Elliott's behalf?' That's the key. If Ezekiel Elliott's agent is going to say to the Commissioner, 'Hey, one game and then we're done with this,' then that's probably what happens. The Players' Association wants to argue to say, 'Hey, he shouldn't be suspended at all. He wasn't even an employee of the league and you're suspending him.'"
Elliott faces a potential suspension nearly one year after prosecutors announced that he would not face charges over allegations of domestic violence that occurred during his time at Ohio State.
However, the NFL continues to investigate the situation and ESPN's Adam Schefter reported that the NFL is going to suspend the second-year running back to start the season.
"Ezekiel Elliott at this point in time is bracing for a short suspension," Schefter said. "Maybe one game, maybe two games, but as one person told me, in quotes, 'It looks like the NFL is trying to pin something on him.'"