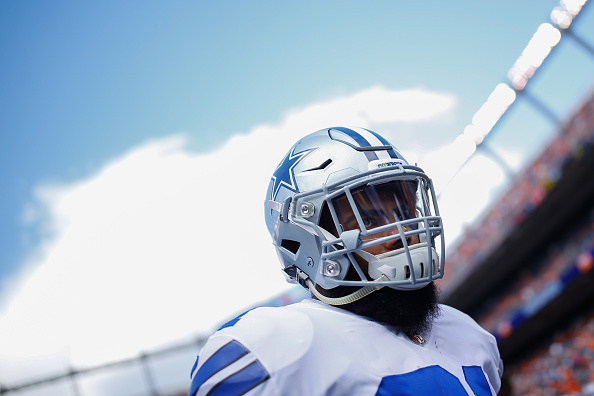 Justin Edmonds/Getty Images
DENVER, CO - SEPTEMBER 17: Running back Ezekiel Elliott #21 of the Dallas Cowboys on the field before a game against the Denver Broncos at Sports Authority Field at Mile High on September 17, 2017 in Denver, Colorado. (Photo by Justin Edmonds/Getty Images)
It looks like the NFL won't be getting their decision on the Ezekiel Elliott case as soon as they would like.
The NFL had filed a motion to block Elliott's injunction against his six-game suspension, hoping that the solution would be reached this week. However, NFL.com's Ian Rappaport is now reporting that the hearing on the NFL asking for a stay in the case won't be heard until Oct. 2, likely indicating that Elliott will be good to play in Weeks 3 and 4 of the season.
The Cowboys will play at Arizona and then at home against the Rams prior to the hearing.
The NFL's initial emergency appeal of Elliott's injunction was denied earlier this week.
Elliott's suspension stemmed from what the NFL called a violation of their personal conduct policy after Elliott had been accused of domestic violence. Elliott was not charged amid the allegations, but the NFL and commissioner Roger Goodell still have the power to hand down suspensions even without criminal charges.
Until the case is resolved, Elliott will be allowed to continue playing for the Cowboys. If the motions eventually come in favor of the NFL, Elliott will then have to serve his six-game suspension. However, as seen with the Tom Brady case, a definitive ruling may not come quickly and the case could easily drag out into the playoffs or even into next season.