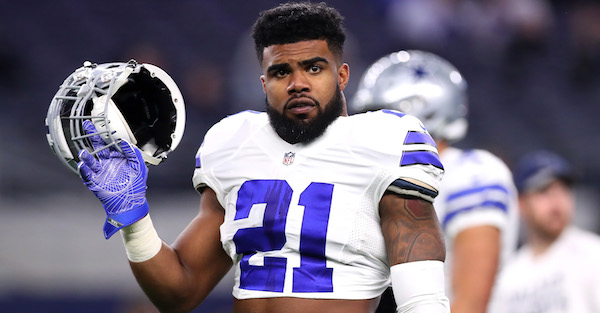 Tom Pennington/Getty Images
ARLINGTON, TX - DECEMBER 18: Ezekiel Elliott #21 of the Dallas Cowboys warms up on the field prior to the game against the Tampa Bay Buccaneers at AT&T Stadium on December 18, 2016 in Arlington, Texas. (Photo by Tom Pennington/Getty Images)
As of Friday, all signs pointed to Dallas Cowboys running back Ezekiel Elliott beginning to serve a six-game suspension when the Dallas Cowboys returned from their current bye week. That would not have been a shocking outcome considering many believe Elliott is simply delaying the inevitable by fighting an ongoing legal battle but, on Saturday, word broke that Elliott's suspension may not be finalized just yet.
Michael David Smith of Pro Football Talk brings word that United States District Court Judge Amos L. Mazzant told both the NFL and the NFLPA that the injunction keeping the league from suspending Elliott won't be removed until the U.S. Court of Appeals for the Fifth Circuit comes down on a petition. In short, that means that Elliott is still eligible to play, though it has to be noted that there is some legal gray area here.
Amy Dash of CBS Sports Radio also has quite a bit of legal info to pass along, including details on a battle to keep the court case in the state of Texas rather than moving to New York. Most NFL fans are simply interested in the final outcome but all signs point to Elliott's legal team doing everything possible to keep him playing, even if that means the suspension beginning later in the 2017 season.
It is definitely worth monitoring in the coming days, especially because of the fact that Elliott's legal challenge could be proven unsuccessful even before the Cowboys play another football game. For now, though, it appears he is able to play.