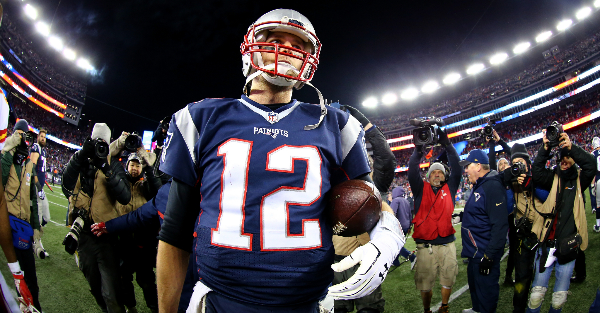 FOXBORO, MA - JANUARY 16: Tom Brady #12 of the New England Patriots look son after defeating the Kansas City Chiefs during the AFC Divisional Playoff Game at Gillette Stadium on January 16, 2016 in Foxboro, Massachusetts. The Patriots defeated the Chiefs 27-20. (Photo by Maddie Meyer/Getty Images)
It was always a longshot, but the Federal appeals court has denied Tom Brady's appeal, thus he'll serve a four-game suspension to start the 2016-17 season.
That will likely put Jimmy Garoppolo at the helm for the first four contests:
Brady allegedly was aware of the deflating of footballs ahead of the team?s AFC Championship game two years ago. The Patriots were hit with stiff fines that included a $1 million penalty and multiple draft picks taken away. Patriots staff members were also suspended stemming from the incident.
Related: Massachusetts Attorney General throws gasoline on DeflateGate dumpster fire, absolutely trashes NFL
Brady was handed down the four-game suspension. The quarterback appealed the decision, won in court and played all of last season.
The decision was made to overturn Brady?s appeal despite evidence suggesting Goodell backtracked on the DeflateGate timeline, information leading to speculation that the NFL lied about the case and it has led to talks of the commish being stripped of his power.
The only member of the Patriots that hadn?t served the penalties handed down was Brady.
It looks like we finally have the end to a messy battle between the league and the Patriots stemming from the DeflateGate investigation.
Over his career, Garoppolo has attempted 31 throws for for 188 yards and a touchdown.