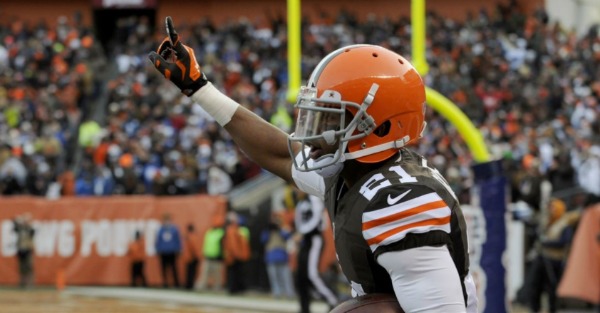 Browns Report via Twitter
Justin Gilbert was the No. 8 pick in the 2014 NFL draft, just three short seasons ago. Today, he's 25, unemployed, and now, he's in trouble with the league.
Gilbert, a free agent, has been suspended for four games for violating the league's substance abuse policy, according to NFL.com.
Gilbert, going into that 2014 draft, was the most talent cover corner coming out of college, according to a NFL.com draft profile. The Oklahoma State product had the size (6 feet tall, 202 pounds) and the speed (4.37 40) that lead the analysis to conclude he was a "prototypical cornerback in today's NFL."
Cleveland drafted took Gilbert, but his two years as a Brown was less than inspiring. He only started three games, looked lost on the field, and opposing quarterbacks would target him. He was so bad that, years later, ESPN labeled him the biggest draft bust in Browns history. The Browns dumped him on Pittsburgh in 2016 in exchange for a sixth-round pick, but the Steelers cut him after a season in which he saw most of his action on special teams.
So, at the age of 25, Gilbert may have gone from the most anticipated corner in the draft to out of the league.
The Browns' 2008 first round picks didn't work out for them, They had two, and also drafted Johnny Manziel that year, and he's also out of the league.