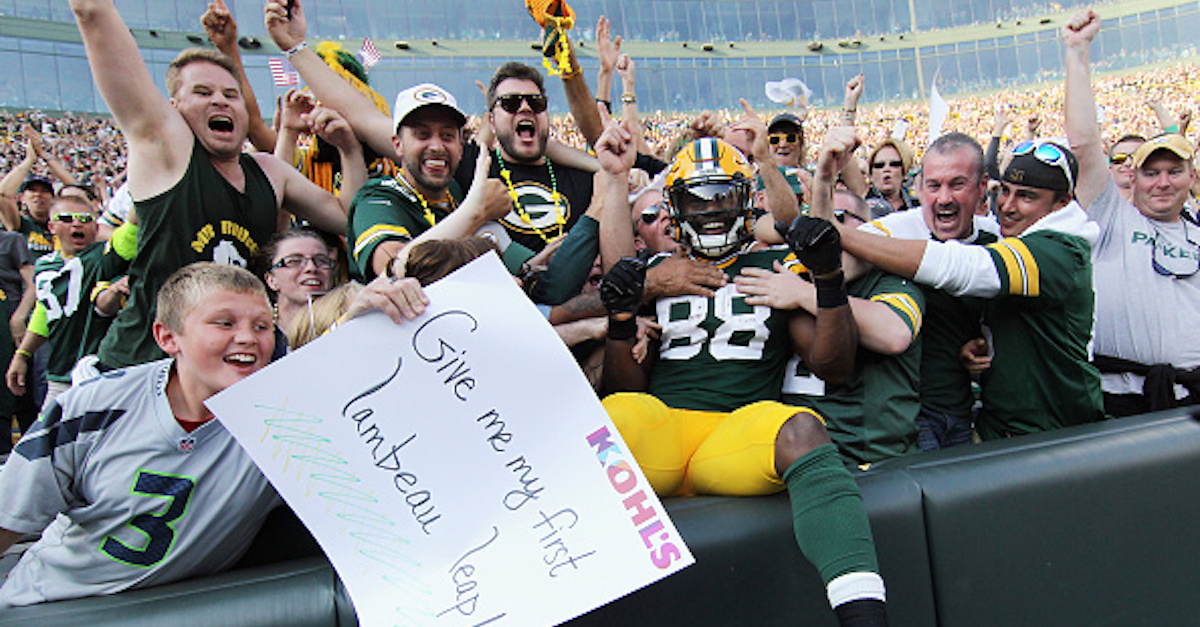 Photo by Dylan Buell/Getty Images
GREEN BAY, WI - SEPTEMBER 10: Ty Montgomery #88 of the Green Bay Packers celebrates with fans after scoring a 6-yard rushing touchdown during the third quarter against the Seattle Seahawks at Lambeau Field on September 10, 2017 in Green Bay, Wisconsin. (Photo by Dylan Buell/Getty Images)
Fans of the Green Bay Packers have plenty of sorrows to drown out lately, but a handful at this past Monday Night Football game took it way too far, according to reports.
Doug Schneider of the Green Bay Press-Gazette is reporting that five people were arrested at Lambeau Field this past Monday night. A whopping 15 others were ejected from the game by Green Bay police, per the report, with many of those ejections being alcohol-related, not surprisingly.
According to Schneider, the five arrests were the second most recorded during a Green Bay home game this season, with only the game against the Packers, heated rival, the Chicago Bears, producing more. And in terms of ejections, there were also some "records" broken. Three people were asked to leave the stadium 90 minutes before the game actually kicked off. Per Schnider, those would be the earliest ejections of the season so far.
One lady actually passed out and was thought to be in serious medical trouble. Turns out she just drank too much, though:
"She passed out due to over-consumption of alcohol," Green Bay Police Commander Paul Ebel said in an email. "A friend who was with her panicked and called 911, telling the dispatcher that her friend stopped breathing."
With Aaron Rodgers potentially out for the season due to injury, the Packers currently find themselves on a three-game losing streak. Brett Hundley has been pedestrian at best at quarterback for Green Bay, and what once looked to be a potential Super Bowl season has quickly become a campaign that will see the Packers struggle to even make the playoffs.
There's no excuse for drinking so much to get kicked out of a game, but to be fair, from a Packers perspective there's not much to see on the field anymore anyhow.