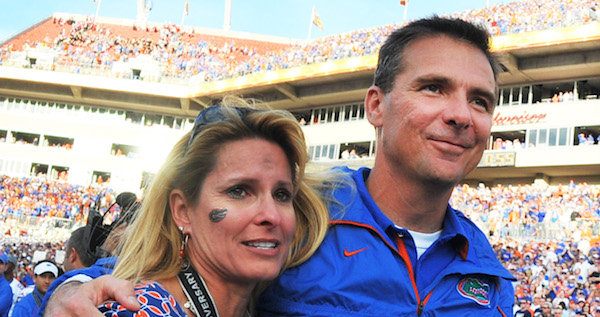 TAMPA, FL - JANUARY 1: Coach Urban Meyer of the Florida Gators hugs his wife, Shelley, after play against the Penn State Nittany Lions January 1, 2011 in the 25th Outback Bowl at Raymond James Stadium in Tampa, Florida. (Photo by Al Messerschmidt/Getty Images) *** Local Caption *** Urban Meyer
Former Florida Gators and New England Patriots star Aaron Hernandez's fall from grace was swift.
He was found guilty of first-degree murder in the death of Odin Lloyd after just three years as a pro football player earlier this summer.
According to this breakdown by former Gators head coach Urban Meyer's wife, Hernandez wasn't the monster he'd eventually become during his time in Florida, per AL.com:
"Aaron Hernandez was in my house many, many, many times," Shelley said. "Never once was he not polite. He played with my kids. He was a nice young man. I am as much in shock as anybody else, and I know that kid."
Meyer continued, backing Hernandez's character during his time at the college:
"Aaron Hernandez was not a murderer at Florida," she said. "There was a lot going on in his life that led to that and it certainly wasn't anything that we saw at Florida. He was another player, he was a great player, and he was somebody that was very needy, so we did a lot of things with him.

"I'm extremely sad about what's happened to him. Really sad."
Shelley Meyer's stories stray away from reports of an arrest, multiple drug test failures and a questioning following a shooting during his time at Florida.
Regardless of what type of person Hernandez once was, he'll now spend his life in jail, just miles from Gillette Stadium, where the Patriots play.