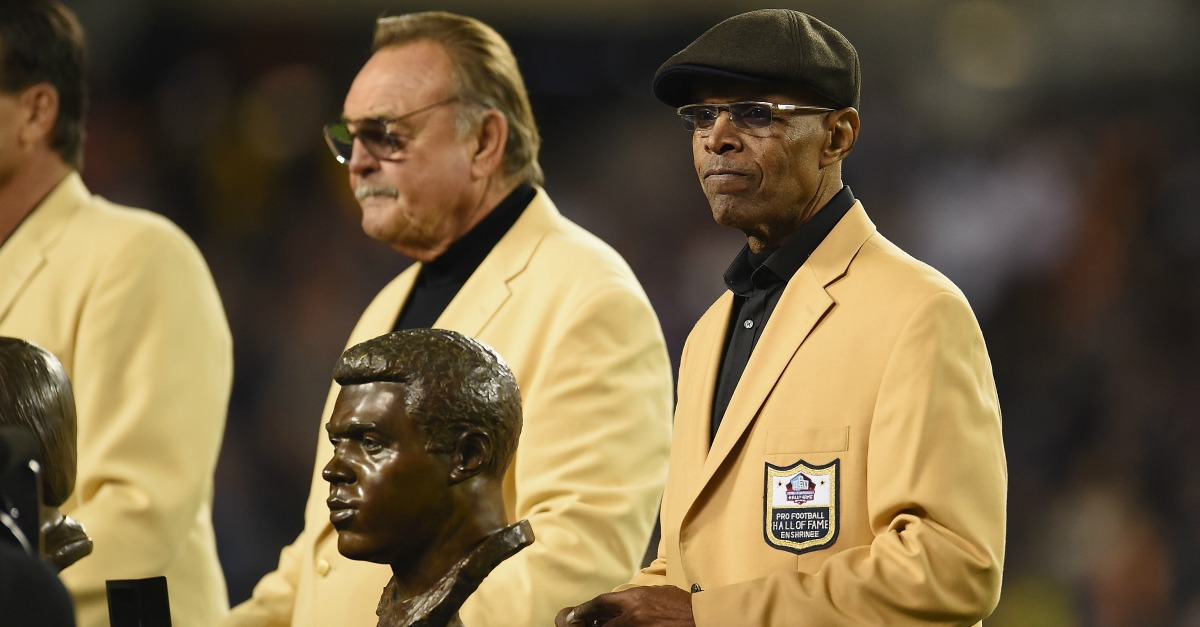 Stacy Revere, Getty Images
at Soldier Field on October 31, 2016 in Chicago, Illinois.
Gale Sayers, one of the greatest running backs in NFL history whose five-year stretch was arguably the greatest ever, is battling a terrible disease.
The Kansas City Star reported that Sayers is suffering from dementia, and has been for the last four years. Sayers, now 73, recently spent seven hours with the Kansas City Star ? and barely spoke. His wife, Ardie Sayers, told the newspaper she?s learning how to laugh to keep from ?crying all the time.? She noted that some days are better than others.
Dementia is characterized by a decline in memory and thinking skills. Alzheimer?s is the most commons form of dementia, and 5.5 million Americans suffer from that disease, according to the Alzheimer?s Association of America.
Sayers was named an All-Pro in each of his first five professional seasons with the Chicago Bears. From 1965-1969, he had 6,263 total yards and 48 touchdowns. But knee injuries shortened his career, and he had to retire in 1971, at the age of 28.
That same year, Billy Williams played Sayers in the move ?Brian?s Song,? which chronicled his relationship with teammate Brian Piccolo (played by James Caan). They were widely considered the first pair of interracial roommates in the NFL; Piccolo died of cancer at the age of 26 in 1970.
After injuries cut short his career, Sayers, in 1977, became the youngest Hall of Fame inductee when he was enshrined when he was just 34.