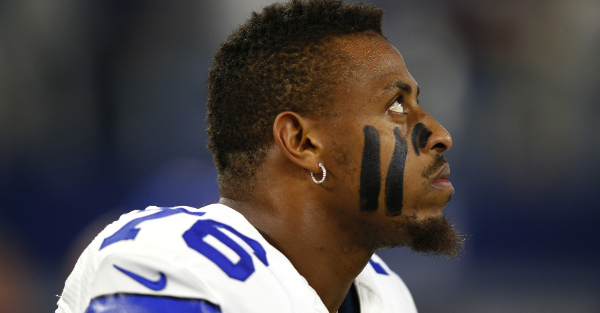 Jamie Squire/Getty Images)
ARLINGTON, TX - NOVEMBER 8: Greg Hardy #76 of the Dallas Cowboys looks on from the sidelines before the Cowboys take on the Philadelphia Eagles at AT&T Stadium on November 8, 2015 in Arlington, Texas. (Photo by Jamie Squire/Getty Images)
Greg Hardy's plans for an NFL comeback just hit a big, old wall.
The former Carolina Panthers and Dallas Cowboys defensive end was charged with felony cocaine possession by a Dallas County grand jury Monday, stemming from an incident several months ago.
According to police documents, Hardy was arrested Sept. 26 after he was pulled over for changing lanes without applying a turn signal. A subsequent search of his car turned up what police believed to be cocaine, as well as some marijuana remnants.
If convicted, Hardy faces a minimum of 180 days in jail and a fine of up to $10,000. Hardy denied having any knowledge of the drugs, telling police he was given a bag containing the items at a party.
The 28-year-old's trouble with the law continues. He was suspended for ten games last season after a domestic violence case involving his ex-girlfriend in 2014 when he was with Carolina. The case was ultimately dropped and his suspension reduced to four games. After his 2015 suspension, Hardy returned to the Cowboys lineup and recorded six sacks in 12 games.
RELATED: Tony Romo's return to the Cowboys could be imminent
After pictures surfaced last November that showed multiple bruises on his ex-girlfriend from the night of the alleged incident, Hardy proclaimed his innocence and denied ever hitting a woman.
"Pictures are pictures, and they can be made to look like whatever they want to," Hardy later told ESPN about the photos.
The Cowboys decided against re-signing Hardy last April, and he has remained a free agent since.