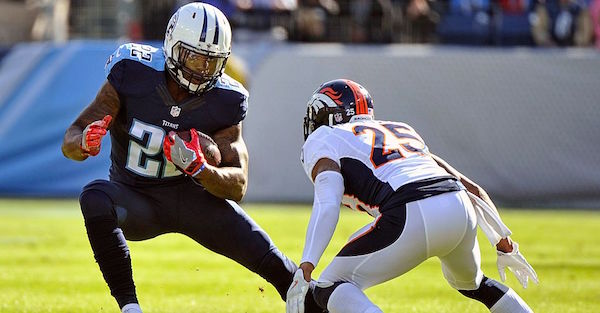 Frederick Breedon/Getty Images
NASHVILLE, TN - DECEMBER 11: Derrick Henry #22 of the Tennessee Titans rushes against Chris Harris Jr. #25 of the Denver Broncos during the first half at Nissan Stadium on December 11, 2016 in Nashville, Tennessee. (Photo by Frederick Breedon/Getty Images)
Tennessee Titans running back Derrick Henry missed the first voluntary workout of the season, and teammate Jurrell Casey was not pleased with Henry's decision to skip the workout.
Casey, a defensive lineman for the Titans, called out Henry while talking to reporters on Monday.
?It definitely puts that little checkmark in the back of my mind and lets me know who I can count on, who I can?t count on,? Casey said according to Jason Wolf of The Tennesseean. ?To see your teammates show up is definitely great."
RELATED: Conflicting reports might cast Denver?s QB situation into question
Fellow running back DeMarco Murray said he wasn't worried about Henry missing the workout, and Henry hasn't given the team a reason for his absence.
Head coach Mike Mularkey said in his press conference he isn't sure why Henry was absent, but he knows the former Heisman winner has been working out and is in shape. Mularkey said he isn't concerned about Henry not being there for the first workout.
Perhaps Henry has a reason for missing the first day, and the workout is voluntary, so it's not as if he is in jeopardy of being punished by the team. But it's still not the best look to miss the first day with teammates.
Henry, a second-round pick in the 2016 draft, rushed for 490 yards and five touchdowns as a rookie.
(h/t SEC Country)