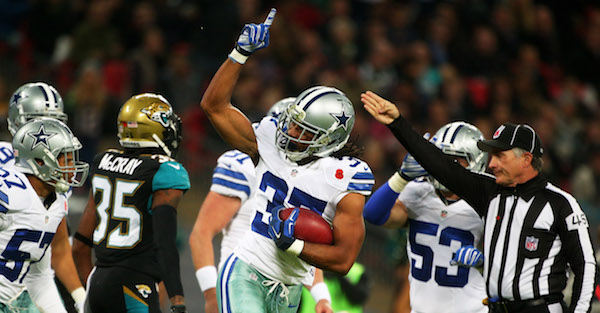 LONDON, ENGLAND - NOVEMBER 09: C.J. Spillman #37 of the Dallas Cowboys celebrates after making a fumble recovery during the NFL week 10 match between the Jackson Jaguars and the Dallas Cowboys at Wembley Stadium on November 9, 2014 in London, England. (Photo by Charlie Crowhurst/Getty Images)
Former Dallas Cowboy and San Francisco 49er C.J. Spillman will spend five years in prison after he was found guilty Friday on a sexual assault charge stemming from a 2014 incident at a resort the team reportedly regularly uses, per New York Daily News.
Related: Cowboys' depth receives another huge hit with this terrible news
According to the Star-Telegram, the woman spent a week with Spillman in 2014, where she was reportedly sexually assaulted.
According to the report, the Cowboys knew of the investigation before Spillman took the field the next day. He was allowed to play the rest of the season, and was indicted two months after he became a free agent that summer.
Spillman was also accused of attempted rape on a Bay Area massage therapist, but charges were never handed down.