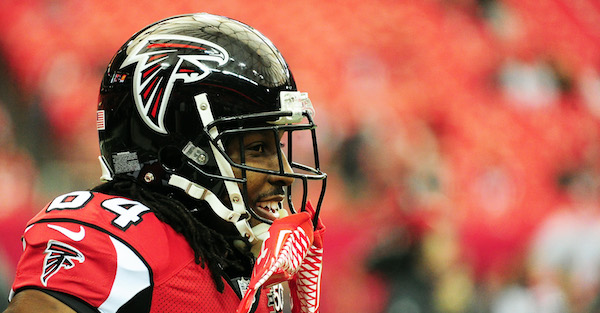 Scott Cunningham/Getty Images
ATLANTA, GA - JANUARY 03: Roddy White #84 of the Atlanta Falcons warms up prior to the game against the New Orleans Saints at the Georgia Dome on January 3, 2016 in Atlanta, Georgia. (Photo by Scott Cunningham/Getty Images)
Former Atlanta Falcons receiver Roddy White didn't mince words when describing Kyle Shanahan's playcalling in Super Bowl LI.
Related: Report: Kyle Shanahan admits what everyone already knows 
In an interview with WSB-TV sports director Zach Klein and Atlanta Journal-Constitution columnist Jeff Schultz, White said he probably "would've fought" Shanahan for letting the New England Patriots back in the game.
"I'm glad I wasn't a part of that team, because I probably literally would've fought him," White said.
White lost $100,000 in Las Vegas during the Super Bowl weekend, including $40,000 on the Falcons. He said the game should've been over after Julio Jones' spectacular catch in the fourth quarter.
"I was like, 'That's it. Game's over. We're going to have a parade,'" White said. "I'm going to fly back to Georgia. We're going to have fun."
White also said Shanahan "destroyed a dream" for the city of Atlanta.
"You destroyed a dream for a city," White said of Shanahan. "It's bigger than me. The city of Atlanta needed that championship and you had it. (Falcons owner) Arthur Blank needed that championship and he deserved to win that game, with everything he's been through. It was finally our time to win and it just hurt me that we didn't get it done.
"To not finish — and that's what you preach. You have a kicker in a dome (Matt Bryant) and he don't miss."
It sounds like White took the loss just as hard as most of the current players. It will be a long time before Falcons players and fans get over that devastating loss.
(h/t Sporting News)