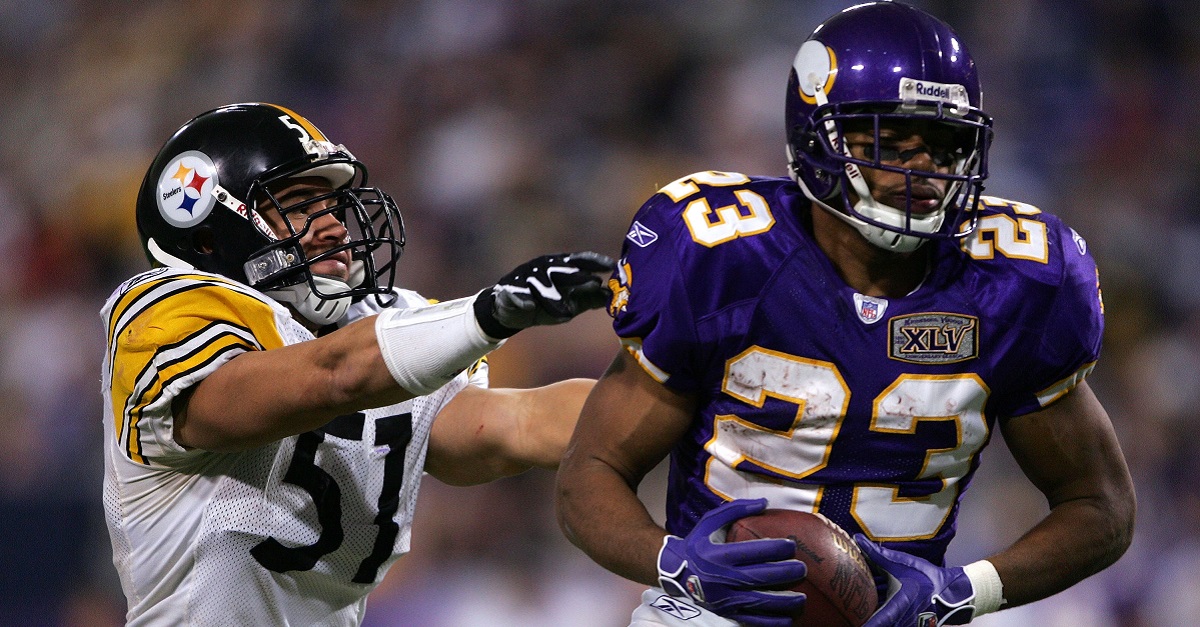 Elsa/Getty Images
MINNEAPOLIS - DECEMBER 18: Michael Bennett #23 of the Minnesota Vikings is stopped by James Farrior #51 of the Pittsburgh Steelers on December 18, 2005 at the Hubert H.Humphrey Metrodome in Minneapolis, Minnesota. The Pittsburgh Steelers defeated the Minnesota Vikings 18-3. (Photo by Elsa/Getty Images)
Former Wisconsin and NFL running back Michael Bennett was sentenced to five years in a California state prison on Thursday after he pleaded no contest to multiple felonies.
According to the San Francisco Chronicle, Bennett was charged in relation to a 2015 incident where he fraudulently took out over $200,000 in loans in the names of his then-girlfriend's parents. Bennett was already under probation for a separate fraud charge at the time, and he was later charged with felony identity theft and burglary after this incident.
Bennett was a former first-round NFL Draft choice back in 2001 after a standout career at Wisconsin. Known for his amazing quickness, Bennett made the Pro Bowl in 2002 with the Vikings after rushing for 1,296 yards and five touchdowns.
After the Pro Bowl selection, Bennett's career floundered due to injuries. After stints with Kansas City, Tampa, San Diego, and Oakland, Bennett retired in 2011 after rushing for 3,703 career yards, almost all with Minnesota.