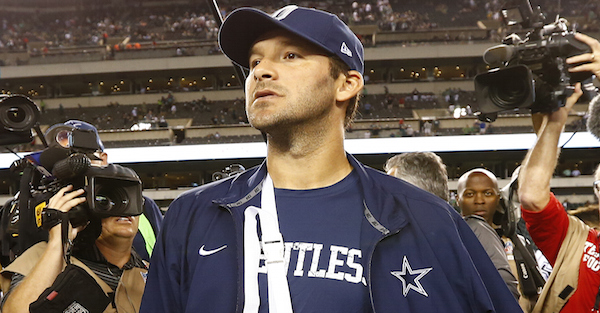 Rich Schultz /Getty Images
PHILADELPHIA, PA - SEPTEMBER 20: Tony Romo #9 of the Dallas Cowboys after their football game against the Philadelphia Eagles at Lincoln Financial Field on September 20, 2015 in Philadelphia, Pennsylvania. The Cowboys defeated the Eagles 20-10. (Photo by Rich Schultz /Getty Images)
You don't see many player-for-player blockbuster trades in the NFL — it's hard to get equal value for truly great players — but Chris Carter has proposed a dozy.
He thinks the Houston Texas should go after Dallas quarterback Tony Romo, and offer J.J. Watt as bait.
"Where Dallas is, they have a lot of good, young players," Carter, the Hall of Fame receiver turned broadcaster said on the Skip and Shannon Show. "So I like an established player. And if you trade (Romo) to Houston, I would try to get one of their defensive players. I?d try to pull off a deal for J.J. Watt.?
RELATED: Jerry Jones believes Tony Romo will play in a Super Bowl
Wouldn't that be something? That could go down as the biggest player-for-player trade in NFL history. The biggest trades in NFL history — Herschel Walker to Dallas in 1989, John Elway to Denver in 1983, Steve Young the the San Francisco 49ers in 1987 — were primarily player for picks.
True, Watt had back and groin issues that limited him to three games last season, and the oft-injured Romo is soon-to-be 37 and the back nine of his career.
But, if those players can stay healthy for their teams for one year, the Texans get a quarterback who could help them challenge the New England Patriots dominance in the AFC; and Watt, a three-time Defensive Player of the Year, would bolster a defense that already ranked first against the run — and could make the Cowboys the Super Bowl favorite.