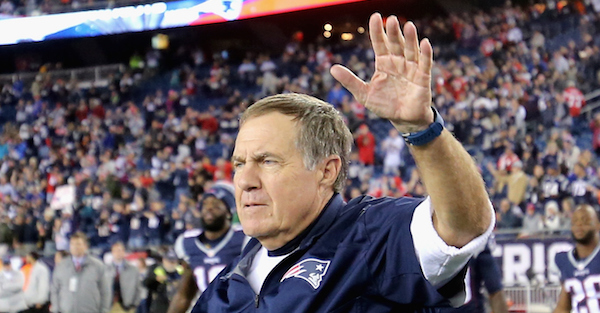 Jim Rogash/Getty Images
FOXBORO, MA - OCTOBER 29: Head coach Bill Belichick of the New England Patriots reacts after a game against the Miami Dolphins at Gillette Stadium on October 29, 2015 in Foxboro, Massachusetts. (Photo by Jim Rogash/Getty Images)
Spygate occurred nearly a decade ago with the New England Patriots, but some coaches are still paranoid about Bill Belichick attempting to cheat.
Related: Embattled former NFL head coach Rex Ryan has landed his surprising new gig 
According to Bleacher Report's Jason Cole, former Buffalo Bills' coach Rex Ryan shredded gameplans during the week leading up to a matchup with the Patriots.
Apparently Ryan was afraid someone from the Patriots would bribe members of the Bills' staff to hand over materials to help New England, so he destroyed everything. The Bills defeated the Jacoby Brissett-led Patriots 16-0 in September, and they lost to Tom Brady 41-25 later in the year.
The Patriots have a reputation for cheating, but Ryan's paranoia went above and beyond being reasonable.
(h/t All 22)