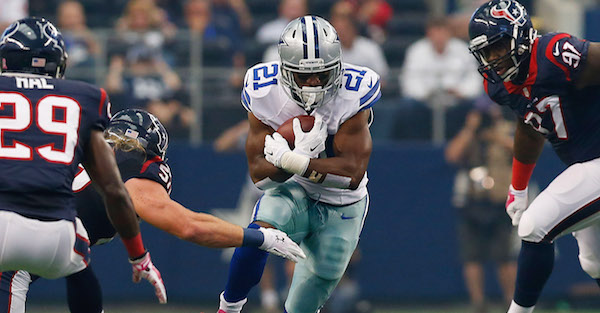 ARLINGTON, TX - OCTOBER 05: Joseph Randle #21 of the Dallas Cowboys carriers the ball against the Houston Texans in the first half at AT&T Stadium on October 5, 2014 in Arlington, Texas. (Photo by Tom Pennington/Getty Images)
Former Dallas Cowboys running back Joseph Randle, who was cut in the middle of last season, had been arrested six times and been charged with three felonies in less than two years before his latest bit of bad news.
According to TMZ, Randle was initially ruled mentally incompetent before the judge reversed the decision and will now have him stand trial in an assault case where he allegedly tried to run people over following a beer pong match.
Randle has been charged with aggravated battery, interfering with law enforcement and another felony charge after allegedly threatening a cop.
Regardless of the decision in court, the judge believes Randle needs mental help and is ordering him to a mental health facility should he be released, per the report.
According to SportsDay, Cowboys owner Jerry Jones commented on Randle's mental health in November:
"I'm always concerned as to any issues regarding the [mental] health of a player," Jones said. "It's a lot more serious than the football [injury] and that's why he's not dressed out."
Randle played three seasons in the NFL, all with the Cowboys.