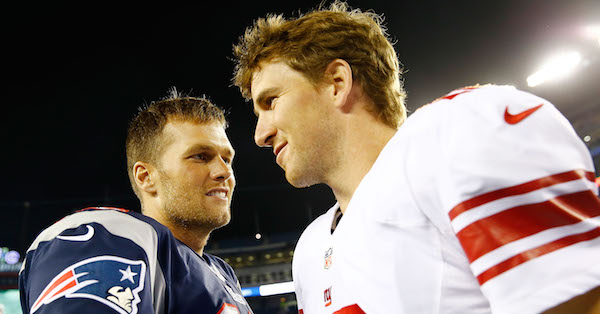 Jared Wickerham/Getty Images
FOXBORO, MA - AUGUST 29: Tom Brady #12 of the New England Patriots talks to Eli Manning #10 of the New York Giants following their preseason game at Gillette Stadium on August 29, 2013 in Foxboro, Massachusetts. (Photo by Jared Wickerham/Getty Images)
David Tyree's catch in Super Bowl XLII is one of the most memorable plays in NFL history, but it almost didn't happen, according to official Mike Carey.
Related: Patriots defender will have a chance to back his words up after calling out Atlanta?s superstar, Julio Jones
Tyree's catch allowed the New York Giants to upset the undefeated New England Patriots, and Carey said he almost blew the play dead because it appeared Eli Manning was down?but Carey moved, which gave him a different perspective of the play.
"For some reason, I don't know why, I ran all the way around (behind Manning)," Carey told Tony Siragusa of Yahoo Sports. "I just got lucky, and as I got there, they were pulling him back. Had I stayed (in front of Manning), I would have just seen him collapse into a pile. But I got a look in there, and I saw him free up, he launches it, and the rest is history.

?Had I stayed (in my original position), I think the outcome would have been different,? Carey said. ?I probably would have blown the whistle.?
Here's the play, and you can see Carey change positions.
Had Manning not converted the pass to Tyree, the Patriots likely would've won the game and completed their perfect season. Tom Brady and Bill Belichick have still won four Super Bowls, but that loss was a tough one to swallow. And the play almost didn't happen.
(h/t Sporting News)