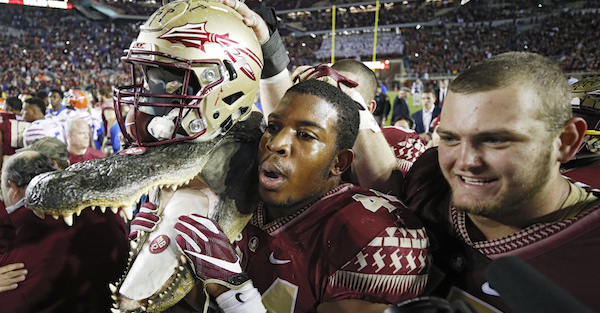 Joe Robbins/Getty Images
TALLAHASSEE, FL - NOVEMBER 26: DeMarcus Walker #44 of the Florida State Seminoles carries a gator head wearing his helmet as he celebrates after the game against the Florida Gators at Doak Campbell Stadium on November 26, 2016 in Tallahassee, Florida. Florida State defeated Florida 31-13. (Photo by Joe Robbins/Getty Images)
The 2017 NFL Draft is only a few weeks away and two of the most highly regarded prospects coming into the draft are defensive lineman like Texas A&M's Myles Garrett and Stanford's Solomon Thomas. One of the defensive lineman that hasn't gotten as much buzz is DeMarcus Walker, but NFL analyst Bucky Brooks doesn't get it and explained why.
Brooks, an NFL Draft expert, wrote a piece Friday on analyzing different storylines and prospects heading into the draft and went into intricate detail as to why he liked Walker.
In the piece, however, he mentions what another AFC scout mentioned to him.
Via NFL.com:
"He's not a great athlete," said an AFC scout. "I wonder if his production will translate to the pros."
Brooks notes that there seems to be a disconnect between what you see on the tap and what Walker tested at in isolated drills.
Here is how Brooks explained why Walker is being "undervalued":
"As a pass rusher, Walker is a blue-collar worker with exceptional hand skills and natural rush ability. He uses a wide variety of combat maneuvers (arm over, swipe and spin move) to win at the line of scrimmage, particularly against interior blockers from his three-technique spot in the Seminoles' sub-package. In addition, Walker shows outstanding anticipation and instincts in "jumping" the snap to quickly blow past blockers on passing downs. With his snap-count anticipation enhancing his first-step quickness, Walker is a tough matchup for blockers with late hands and limited lateral quickness, especially lumbering offensive guards isolated on the slippery pass rusher."
It should be interesting to see where Walker ends up. As four-star prospect coming out of high school, Walker lived up to the hype at Florida State.
He could go anywhere from the first round all the way up to the third round depending on which mock draft you look at.