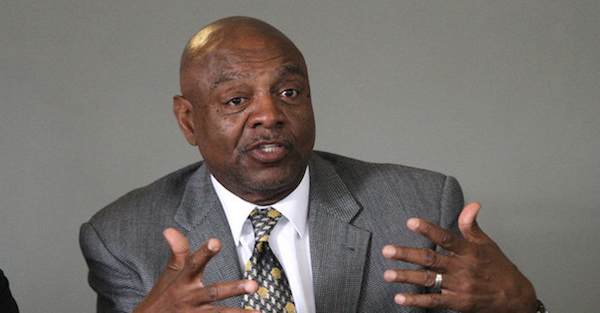 Former NFL wide receiver and broadcaster Reggie Rucker has been accused by federal authorities to have used charitable donations, which were originally intended to use for Hall of Famer Jim Brown's Amer-I-Can foundation, to pay off gambling debts and personal expenses. According to CBS Cleveland, Rucker was charged on Tuesday with one count of wire fraud and one count of making false statements to law enforcement.
Clevelend.com reports that Rucker, who is 68 years old, withdrew more than $500,000 from the Amer-I-Can account. He did so between the time frame of 2011 and February 2015, according to federal investigators who interviewed him. $38,000 of that was withdrawn from casino ATMs. He also is alleged to have used tens of thousands of dollars he used to pay off gambling debts.
"Reggie Rucker misused his celebrity and position in the community to dupe some of our most important local foundations and generous citizens," acting U.S. Attorney Carole Rendon said in a statement via Pro Football Talk. "He stole from the very violence interrupters he so publicly claimed to support. In one breath he begged generous donors to save Amer-I-Can and the Peacemakers Alliance, and in the next he stole that money to support his lifestyle and his gambling junkets in Cleveland, Florida, and Las Vegas, using the charity's account as his own ATM."
Brown is the founder of the program called Amer-I-Can that supports inner-city youth. Brown worked with Rucker on a variety of different projects. Rucker played seven seasons of his 12-year NFL career with the Browns. Before landing in Cleveland he saw time with the Patriots, Cowboys and Giants. He was a also an NFL broadcaster for five years in the 1980's.
[H/T: Pro Football Talk]