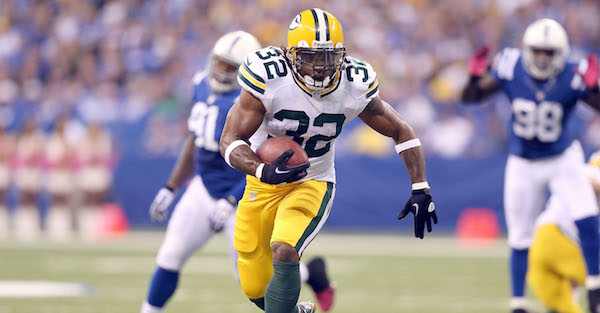 Andy Lyons/Getty Images
of the Green Bay Packers during the NFL game against the Indianapolis Colts at Lucas Oil Stadium on October 7, 2012 in Indianapolis, Indiana.
Former NFL and Texas Longhorns running back Cedric Benson was arrested for drunk driving Saturday morning, and he attempted to play the football player card to get out of the arrest, according to a report in a Texas newspaper.
Related: Michael Floyd arrest reportedly classified as ?super extreme DUI?
Benson was pulled over in Austin for speeding and making an improper turn without signaling, according to the Austin American Statesmen.
Benson refused to take a sobriety test and balance test. When he was asked to recite the alphabet, Benson said he couldn't do that because he "played eight years in the NFL." He also said he couldn't count higher than three.
The report said his eyes were glassy and he smelled of alcohol. He was pulled over at a a 7-Eleven, and he attempted to go in before he was arrested and booked into jail. He is no longer in custody.
Benson has had issues with alcohol in the past. He was arrested in 2008 for a drunken boating incident and for a DWI later that year. In 2014, he was arrested for public intoxication.
Benson played at Texas from 2001-04, and he was drafted by the Chicago Bears with the No. 4 overall pick in the 2005 NFL Draft. He played eight seasons with Bears, Cincinnati Bengals and Green Bay Packers.
(h/t Yardbarker)