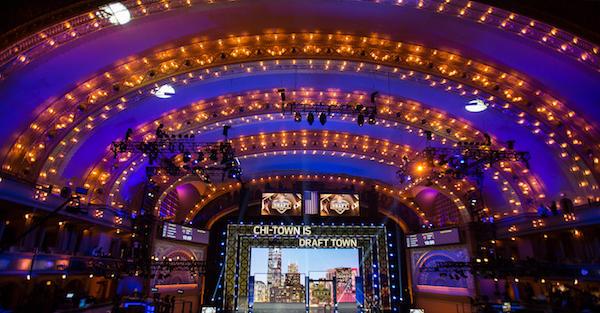 CHICAGO, IL - APRIL 30: The stage is seen prior to the start of the first round of the 2015 NFL Draft at the Auditorium Theatre of Roosevelt University on April 30, 2015 in Chicago, Illinois. (Photo by Kena Krutsinger/Getty Images)
One-time LSU prospect JaMarcus Russell was taken No. 1 overall by the Oakland Raiders in 2007.
Related: NFL scout compares Cardale Jones to a massive NFL bust
While his career ended abruptly after three years of futility, the quarterback is doing everything he can to get back into the NFL, including penning a letter to teams and offering to work for free, per Fox Sports.
"I am writing this letter to reach out to the Cowboys organization and to express my desire and interest to become a part of your family. Let me begin by saying that if you are reading this letter, I am greatly appreciative of you taking time from your busy schedule to do so. Let me also say that I don't write this letter with any preconceived notions of a huge salary or unseating your current starting quarterback. I am willing to work my way in and up. I am willing to lead the scout team for free for one year just to get experience in your system. I want to learn the playbook, sit under the proper tutelage and learn from your coaching staff. After that time, if you see fit to allow me to stay with the Cowboys organization, I would be eternally grateful."

As a former NFL player, I understand the daily grind that football operations can be," Russell wrote. "I am prepared to be physically examined and to have my football IQ evaluated. I would sincerely like an opportunity to come to Dallas and meet with you and the coaching staff. I know that my name does not carry much weight in the NFL right now but I am more than the image that others have bestowed on me. I've been labeled as a bust, I have been labeled as lazy and I have been the target of many insults by the media. The blame for any negative press that I've received rests squarely on my shoulders."
From Russell's stance as a player, when he held out for more money as a rookie, to poor conditioning and a lack of leadership, it seems like he's learned his lesson and is doing the right things to get back to the NFL.