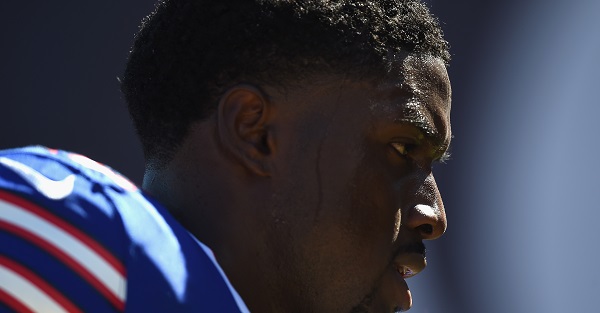 Harry How/Getty Images
LOS ANGELES, CA - OCTOBER 09: Reggie Bush #22 of the Buffalo Bills attends warm ups before playing in the game against the Los Angeles Rams at the Los Angeles Memorial Coliseum on October 9, 2016 in Los Angeles, California. (Photo by Harry How/Getty Images)
Reggie Bush was once thought to be a "can't miss" NFL player and, while his stardom never took off at the professional level in the way that many hoped, he has enjoyed a fruitful and productive career. However, things did not go well for Bush with the Buffalo Bills in 2016 and he is looking to get past that downturn with an attempt to return to the NFL for 2017.
Kevin Patra of NFL.com brings word that Bush, as part of an interview with the NFL Network's Up To the Minute Live, wants to join a team sooner rather than later.
"That's my plan. Going into year 12, I still feel like I have a lot left to prove, a lot left to give this game before I'm done. I don't want to put a number on how many years I have left. I think once you get past year 10, you just gotta take it one year at a time and go from there. I'm still excited, still looking forward to playing football again this season, still staying in shape, still working out. I plan to be somewhere in September."
While raw rushing totals have never done Bush justice as a role player in the NFL, the former USC star accumulated -3 yards (not a misprint) on the season in 2016 with the Bills. He can certainly bring a third-down element as a pass-catcher with some electricity, but at some point it does make sense that Bush is left waiting until the end of the offseason to find work.
RELATED: Reggie Bush made NFL history as the worst non-QB rusher ever
Still, the report indicates that Bush has been in contact with "a few teams" at this juncture and it is hard to fathom that he can't find work if he wants to.