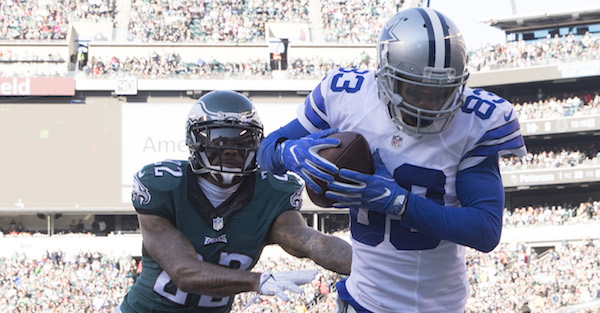 Mitchell Leff/Getty Images
PHILADELPHIA, PA - JANUARY 1: Terrance Williams #83 of the Dallas Cowboys catches a touchdown pass against Nolan Carroll #22 of the Philadelphia Eagles in the second quarter at Lincoln Financial Field on January 1, 2017 in Philadelphia, Pennsylvania. (Photo by Mitchell Leff/Getty Images)
The Dallas Cowboys are in win-now mode, and that was the appeal for adding seven-year veteran Nolan Carroll to their talented secondary.
After inking the cornerback last week, Carroll was already ready to make the flip from Eagles green to Cowboys blue, via the team's official website.
"It's not hard for me at all. If anything, I can't wait to play them," Carroll said of the Eagles. "It's definitely going to be fun and interesting to go to a place I used to play at. All I cared about is winning. Coming here and winning as many games as possible."
Carroll agreed on a three-year, $10 million deal to join Orlando Scandrick as another veteran cornerback.
Carroll started 54 games over his seven year career, recording eight interceptions, two forced fumbles, 3.0 sacks and 221 tackles.
He played for the Miami Dolphins for four years and the Eagles for the past three.