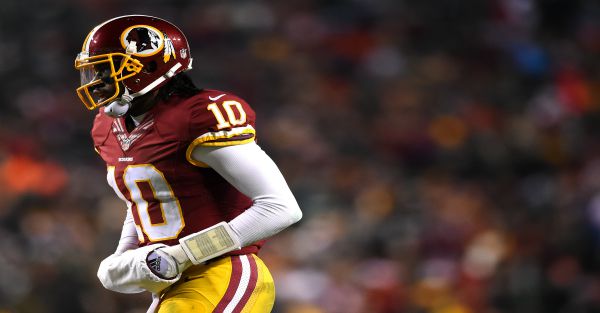 LANDOVER, MD - DECEMBER 20: at FedExField on December 20, 2014 in Landover, Maryland. The Washington Redskins won, 27-24. (Photo by Patrick Smith/Getty Images) *** Local Caption ***
Alecko Eskandarian, a former Major League Soccer player, went on a Twitter rampage aimed at a doctors involved in the recent concussion controversy of Robert Griffin III.
RGIII suffered his third career concussion during the Redskins' preseason game against Detroit. The quarterback was cleared to play by an independent neurologist named Robert N. Kurtzke, who then reversed his decision the next day. This naturally raised some concerns, as mishandling of a player with a history of concussions is very serious and could possibly cost Kurtzke his job.
According to the Washington Post, an "NFL official said Friday that Kurtzke, who told the Redskins on Aug. 27 he would clear Griffin to play only to rule him out 24 hours later, had resigned from the neurological consultant program operated by the league and the NFL players? union. Kurtzke will remain responsible to determine when to clear Griffin to return to play from this concussion, the official added."
This actually isn't the first time Kurtzke has made such a mistake. According to Eskandarian, the doctor was incorrect concerning the diagnosis of one of his own concussions during his time as a pro athlete.
If Eskandarian's statements are true, athletes would be wise to steer clear of Kurtzke and seek medical opinions elsewhere.