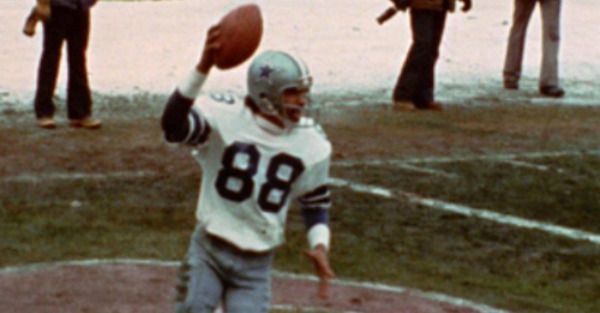 Twitter screen shot
Back in 1975, Dallas Cowboys quarterback Roger Staubach threw a prayer to the heavens in the form of an insanely high-arcing 50-yard bomb to Drew Pearson in the waning moments of a playoff game against the Minnesota Vikings.
Thus, the term "Hail Mary" was born. Ahead of their matchup Thursday night, it's only fitting to relive the play, and try to shed some light on how one of the most exciting plays in football came to be.
The Cowboys were trailing 14-10 with the ball at midfield and 32 seconds left on the clock. Staubach dropped back to around his own 40-yard line and uncorked a beauty of a bomb that traveled so high in the air, you'd be hard-pressed to find one video replay where the ball actually stays in the frame from start to finish.
The ball, which seemed to hang in the air so long it looked like it might never come down, was headed towards Pearson and Minnesota defensive back Nate Wright, who were jockeying for position inside the 10-yard line.
When it finally made it back down to earth, it dropped into Pearson's arms at around the three-yard line, and he eluded a diving Wright and stepped into the end zone for the score.
As Staubach would later famously say, "I closed my eyes and said a Hail Mary."
RELATED: Josh Norman said Dez Bryant threatened him and now he's backtracking
Pearson recalled the play in a 2014 Los Angeles Times article.
"As I looked back and saw the ball coming, I saw it was going to be short," he said. "Then I did that swim move to get inside position…and I made contact with Nate, but there was no deliberate push…He went down and the ball hit my hands. I ended up catching the Hail Mary with my elbow and my hip…The ball stuck between my elbow and my hip. That adds to the mystique and the aura of the Hail Mary."
The Cowboys went on to win the game 17-14 on that play and, unknown to them at the time, Staubach and Pearson created a phrase that would become a long-lasting part of the lexicon, as well as one of the most magical plays in the sport.