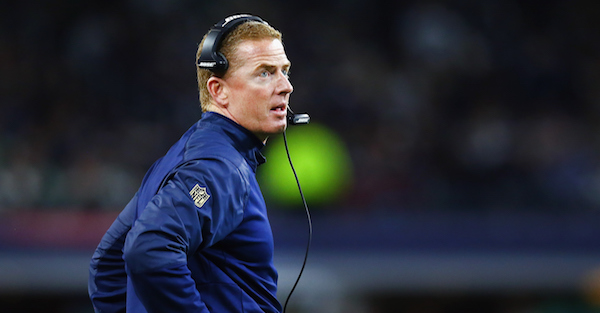 Tom Pennington/Getty Images
ARLINGTON, TX - DECEMBER 19: Head coach Jason Garrett of the Dallas Cowboys looks on as the Cowboys take on the New York Jets in the fourth quarter at AT&T Stadium on December 19, 2015 in Arlington, Texas. (Photo by Tom Pennington/Getty Images)
The Dallas Cowboys had a tremendous season in 2016, even if it ended in an unfortunate manner. However, the 2017 offseason has not been a tremendous one for Jerry Jones, Jason Garrett and company and rave reviews for the team's management of the roster have not been pouring in.
While some have taken a more measured approach, Shannon Sharpe of FOX Sports (as part of Wednesday's Undisputed broadcast) went off on the Cowboys for being "absolutely the worst" in their division.
?The worst, absolutely the worst in the NFC East. I?m disappointed that [MMQB] didn?t give them an F. Should have got an F. Failure.

"I love what the Giants did adding Brandon Marshall. You and I both know Brandon Marshall is a better player – was and still is moving forward – than Victor Cruz. You sign him, upgrade.

"You get Evan Engram, who is an upgrade over any tight end you had on your roster.

"Think about it, Skip. You?ve got Demarcus Lawrence coming off his second surgery. You lost Jack Crawford. They lost the entire secondary. Your big free agent [Nolan Carroll], on Memorial Day, got a DWI. How are you feeling about that, Skip??
Given the platform, it isn't a surprise that the take is quite strong here. Still, the arrest of Nolan Carroll is not a great story line in the midst of everything else and, in some ways, it would be difficult to argue that Dallas is better today than they were six months ago.
On the bright side, the Cowboys have Ezekiel Elliott and Dak Prescott to anchor things offensively and the best offensive line in the sport. On the ugly side, the defense has question marks and at least one analyst isn't buying it right now.