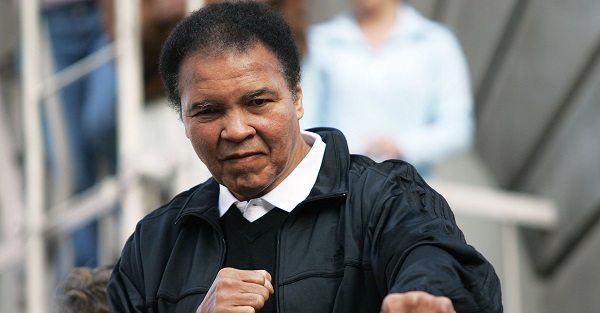 Doug Benc/Getty Images
LOS ANGELES, CA - MARCH 6: Boxing legend Muhammad Ali gestures as he poses for photos just after the start of the 20th anniversary of the Los Angeles Marathon on March 6, 2005 in Los Angeles, California. (Photo by Doug Benc/Getty Images)
Colin Kaepernick is arguably the most controversial athlete in sports today and opinions differ wildly on him as both a player and personality. The dominant story in recent days has been his continued unemployment with regard to the NFL but, recently, a more big-picture comparison was drawn.
In speaking to USA Today, Dr. Harry Edwards referenced Kaepernick as "this generation's (Muhammad) Ali" and said the following:
?I said, ?Don?t wait 50 years to try to get some memorabilia and so forth on Kaepernick. Let me give you a game jersey, some shoes, a picture ? And it should be put right there alongside Muhammad Ali. He?s this generation?s Ali.? ?
With that as the back drop, FOX Sports personality Shannon Sharpe agreed strongly with the sentiment and shared his views in this way.
"I?ve said this, and I do agree because I believe in 15, 20, 50 years from now, history will look fondly upon Colin Kaepernick and the stance that he took for the betterment of minorities. See, people have a hard time looking at Colin Kaepernick as a Dr. King, as a Muhammed Ali, or as a Ms. Rosa Parks because they?re looking at these iconic figures 50 years after the fact.

"But I can assure you that when Ms. Parks did what she did, I think in 1955, I?m sure there were some blacks in her very community that said, ?Why wouldn?t she give up her seat? She had given up her seat so many times before, why is she causing a scene now??

"Just like they said about Colin Kaepernick, 'This police brutality has been going on, why now?' I?m sure when Muhammad Ali took the stance that he took — and Dr. Harry Edwards was one of the organizers of the Black Summit, of the prominent black athletes that came together to show their support for Muhammad Ali — they asked, ?Why wouldn?t he go fight?? And Muhammad Ali asked, ?Why am I going to go kill some Vietkong? They?re not here turning their dogs on me. They?re not firing water hoses on me, but you want me to go over there and kill them?? "
There is a lot to unpack here and more within Sharpe's full context in the link above. Still, it will certainly serve as a jarring comment in the minds of some that anyone in the active world of sports will be compared directly to Ali in this manner.