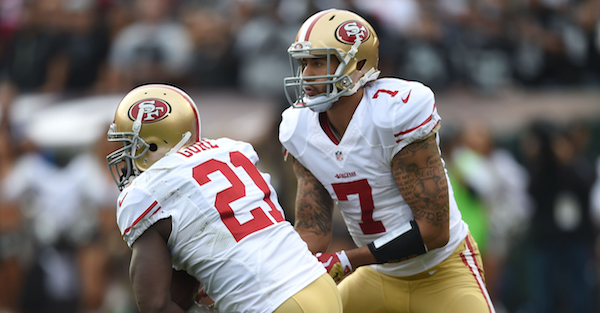 OAKLAND, CA - DECEMBER 07: Colin Kaepernick #7 of the San Francisco 49ers hands off to Frank Gore #21 of the San Francisco 49ers against the Oakland Raiders in the first quarter at O.co Coliseum on December 7, 2014 in Oakland, California. (Photo by Thearon W. Henderson/Getty Images)
Running back Frank Gore was one of the Indianapolis Colts big acquisitions this summer, and he's been blown away by quarterback Andrew Luck early in training camp.
During a sitdown with NFL.com, Gore did the old, "No disrespect, but…" and slammed his former quarterbacks in talking up his current signal-caller.
"I'm not knocking my other quarterbacks, I respect them other guys, but being around this guy a couple months, he's a different breed. He's smart. He makes me feel young. He runs the huddle. I never had that."
Kaepernick and Alex Smith might not have been the best quarterbacks in the world, but simply not running the huddle seems inexcusable from their position.
A quarterback is supposed to be the leader of the offense, and while Kaepernick and Smith remain starters for their respective San Francisco 49ers and Kansas City Chiefs, it's not a great sign for a former teammate to call you out in the media like this.
Whether it was meant to be disrespectful or not, it simply was.