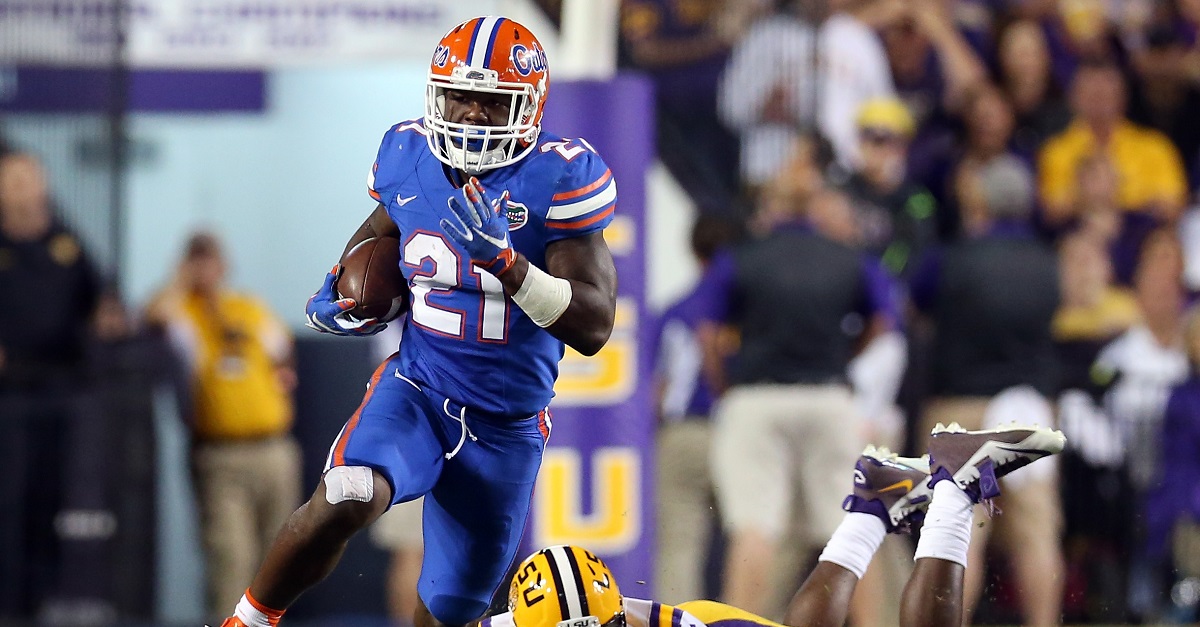 Chris Graythen/Getty Images
BATON ROUGE, LA - OCTOBER 17: Kelvin Taylor #21 of the Florida Gators runs past Deion Jones #45 of the LSU Tigers at Tiger Stadium on October 17, 2015 in Baton Rouge, Louisiana. (Photo by Chris Graythen/Getty Images)
Fred Taylor was a phenomenal running back for a long time in the NFL and his son continues to follow in his footsteps in the professional ranks. While Kelvin Taylor has not found his path to playing time and stability just yet, the former Florida Gators standout recently visited with the Atlanta Falcons for a workout.
From there, Taylor found his way on to Atlanta's roster in the form of a contract, as confirmed by the team's official website.
The 5'10, 207-pound running back was a sixth-round draft pick by the San Francisco 49ers in 2016 but Taylor was not able to make the team's regular season roster. From there, he joined San Francisco's practice squad before spending brief stints with both the Seattle Seahawks and Kansas City Chiefs.
Now, at the age of 23, Taylor appears to be getting a real shot, though the upside of this move is rather limited on the surface. The Falcons employ a dynamic running back duo in the form of Devonta Freeman and Tevin Coleman, indicating that Taylor's path to a roster spot could be more on the special teams and/or insurance end of things should he impress during Falcons camp. Regardless, the son of former NFL great Fred Taylor is in the NFL again and that is exciting for fans of the family and the Florida Gators.