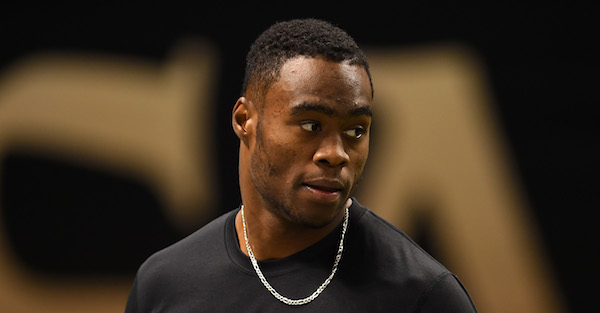 Stacy Revere/Getty Images
NEW ORLEANS, LA - NOVEMBER 16: Brandin Cooks #10 of the New Orleans Saints warms up on the field prior to the start of the game against the Cincinnati Bengals at Mercedes-Benz Superdome on November 16, 2014 in New Orleans, Louisiana. (Photo by Stacy Revere/Getty Images)
The New Orleans Saints have former first-round wide receiver Brandin Cooks on the trading block, and the Tennessee Titans are the favorites to acquire him right now, according to Charles Robinson of Yahoo! Sports.
Related: Patriots, other teams reportedly make trade offer for former first-round wide receiver
At least five teams have reached out to the Saints about acquiring Cooks, including the New England Patriots and Philadelphia Eagles, according to NOLA.com. The Saints want a first-round pick in return for Cooks, whom they selected with the No. 20 pick in the 2014 NFL Draft.
The Titans have two first-round picks thanks to their trade last draft with the Los Angeles Rams, who traded up to No. 1 to select Jared Goff. The Titans have the No. 5 and No. 18 picks in this year's draft.
The Saints have the No. 11 pick in the first-round. Cooks is entering the final year of his rookie deal, and he will likely command a massive contract next offseason.