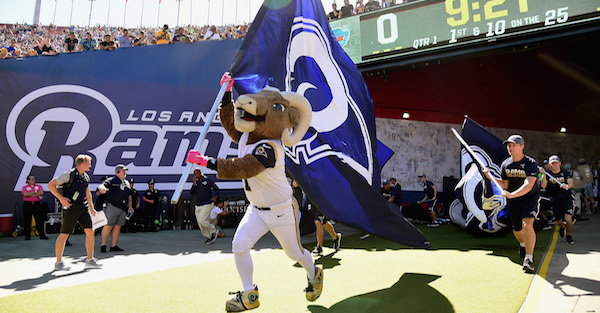 Harry How/Getty Images
LOS ANGELES, CA - OCTOBER 09: Rampage, the Los Angeles Rams mascot, takes the field before the game between the Los Angeles Rams and the Buffalo Bills at the Los Angeles Memorial Coliseum on October 9, 2016 in Los Angeles, California. (Photo by Harry How/Getty Images)
The Los Angeles Rams can't seem to get anything going, and the 3-4 squad's problems revolve plenty around the quarterback position.
After yet another rough outing for Case Keenum, fans were fed up and chanted first for Jared Goff, which is understandable since he was, ya know, the top pick in the NFL Draft.
And then the attention shifted to another, even more famous quarterback — Tim Tebow.
Time to make a call, Rams officials. Fans are getting fed up.