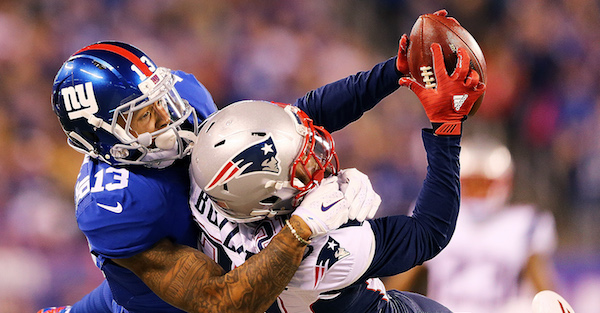 Elsa/Getty Images
EAST RUTHERFORD, NJ - NOVEMBER 15: Malcolm Butler #21 of the New England Patriots breaks up a pass intended for Odell Beckham #13 of the New York Giants during the second quarter at MetLife Stadium on November 15, 2015 in East Rutherford, New Jersey. (Photo by Elsa/Getty Images)
Top New England Patriots cornerback Malcolm Butler isn't happy about not being paid, and he's apparently already exploring options. It all will start with the New Orleans Saints:
The move comes after the Patriots inked defensive back Stephon Gilmore to a lucrative contract, while refusing to give the undrafted defender a pay raise. He will make $3.9 million in 2017 as a restricted free agent, but hadn't made more than $600k over the first three seasons of his career.
Butler is, of course, a Super Bowl hero in New England and he has played at an extremely high level in the recent past. However, the Patriots are notoriously stingy when it comes to contract negotiations and the fact that this has leaked out is probably not the best sign for Butler when it comes to returning to Foxborough.
Because he is a restricted free agent with a first-round tender, Butler is obviously within his rights to explore another avenue to get the deal he seeks. With that said, it would be aggressive for another NFL team to pay him what he wants and give up what it would take in draft ammunition, which could leave Butler on the market for longer than he apparently would like. Waiting out Bill Belichick seems like a bold strategy, but we?ll see if it pays off.
Gilmore was the No. 10 overall pick in the 2012 NFL Draft and, during his career in Buffalo, he is largely lived up to that pedigree. In fact, the talented defensive back was selected to the Pro Bowl last season (right on cue as he entered free agency) and this could be an upgrade for the Patriots in going from Logan Ryan to Gilmore.
The Patriots have a history already with New Orleans, swapping their first-round pick (No. 32) and third-rounder in exchange for Brandin Cooks and the Saints' fourth-round pick.