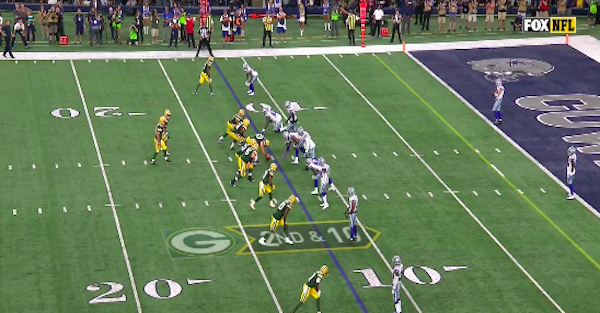 Clipped screenshot
Nearly two weeks ago, Green Bay Packers wide receiver Davante Adams was laid out by Chicago Bears linebacker Danny Trevathan, and it wasn't pretty by any means.
In his first action after the brutal hit and subsequent hospital visit, Adams scored the game-winner to beat the Cowboys, 35-31.
Trevathan was subsequently suspended following what many are labeling as a cheap shot. However, the Bears' linebacker appealed it, and the suspension was reduced from two games to one game.
Although, it's hard to argue that this hit didn't warrant two games.
That hit resulted in a concussion for Adams, and he was forced to spend the night in the hospital.
Just 10 days later Adams started for the Packers against the Cowboys and caught a touchdown pass from Aaron Rodgers in the first quarter.
Team doctors gave Adams the green light, obviously, but some believe the league should have stepped in and held Adams out this week after such a cringe-worthy hit.
Apparently, he's healthy enough to win one-on-one battles against Dallas' cornerbacks. So, maybe he's alright after all.
[h/t Pro Football Talk]