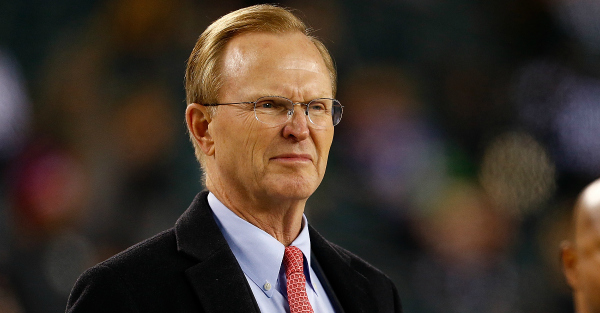 Rich Schultz/Getty Images
<> at Lincoln Financial Field on October 19, 2015 in Philadelphia, Pennsylvania.
The New York Giants are under fire after kicker Josh Brown admitted to abusing his ex-wife multiple times over six years, and the team admitted they knew about the allegations when they re-signed him last year.
Speaking on WFAN in New York, owner John Mara noted (per Pro Football Talk):
"He's admitted to us he's abused his wife in the past," Mara said. "But what I think is a little unclear is the extent of that."
So it's okay for an NFL player to abuse his wife, but only to a certain extent?
To follow up on that, here's what Mara said back in August to the New York Daily News about signing Brown to a contract. Mara said at the time the team won't cut the kicker for anything other than "football reasons."
"Based on the facts and circumstances that we were aware of at that time, we were comfortable with our decision to re-sign him," Mara said.
Brown was allegedly physically violent with his ex-wife over 20 times between 2009 and 2015. Brown was arrested in May of 2015 after his wife called the police and told them the kicker grabbed her wrist during an argument. The state attorney's office did not file charges in the case.
Mara, who has four daughters, said the team takes domestic violence seriously and that they have carefully examined the allegations against Brown.
"These are not easy decisions," Mara said. "It's very easy to say, 'The guy's been accused, get rid of him, terminate him.' But when you're sitting at the top of an organization and you're responsible for a lot of people, you'd better make more informed decisions than that."
Brown has spent 13 seasons in the NFL, with the New York Giants, Cincinnati Bengals, St. Louis Rams and Seattle Seahawks.