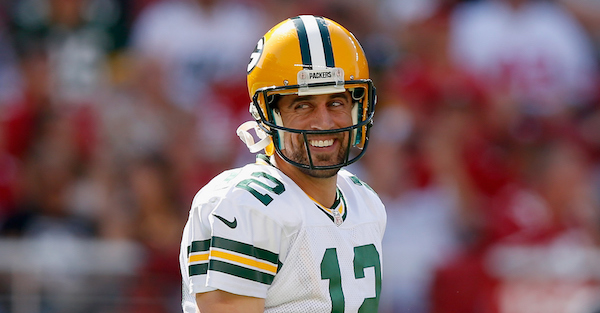 Ezra Shaw/Getty Images
SANTA CLARA, CA - OCTOBER 04: Aaron Rodgers #12 of the Green Bay Packers smiles during their game against the San Francisco 49ers at Levi's Stadium on October 4, 2015 in Santa Clara, California. (Photo by Ezra Shaw/Getty Images)
If there's dancing in the streets of Green Bay right now it has nothing to do with the Packers' two overtime victories in the row these past few weeks and more to do with the updated status of quarterback Aaron Rodgers.
After suffering a broken collarbone, Rodgers is finally back.
Well, we've yet to see him suit up and play, but at the very least Rodgers has announced that he has been cleared to return.
Here's his Instagram post announcing the big news:
Rodgers' photo is from the day he got surgery to put screws and plates into his right clavicle. He was injured after a hit against the Minnesota Vikings in Week 6, and the Packers have been far from the same team without him.
Green Bay was 4-1 with Rodgers to start the season and it looked like he was poised to make another MVP run, with the Packers poised to make another Super Bowl run. Brett Hundley filled in admirably at times for Rodgers — he wasn't so good at others — but at the very least Green Bay has kept the ship afloat and now with Rodgers healthy and ready to return, the Packers could very well make the playoffs.
What will Rodgers look like once he returns? That question remains to be answered, but this is tremendous news for the playoff-hungry Packers.