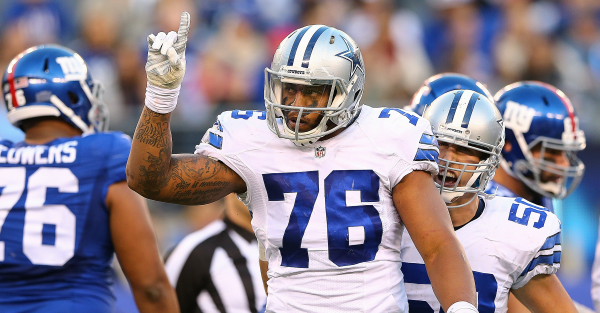 RELATED: The Cowboys are done with Greg Hardy
__________________________________________________________________________________________________
Former Dallas Cowboys defensive end Greg Hardy continued to make headlines today because he decided now was a good time to speak. This has never been a good idea for him as he has shown on several occasions that he has absolutely no self-awareness. With domestic abuse allegations swirling around him and photos with proof of it surfacing, Hardy still believes he has done nothing wrong.
This despicable behavior was on full display in an interview with ESPN's Adam Schefter. Here's an excerpt from that interview showing just how innocent Hardy really believes he is in this mess.
https://twitter.com/emilymkaplan/status/717044592466595840/photo/1
There's testimony saying how terrible of a teammate and person Hardy was during his one season in Dallas and even before that. Hardy was suspended for the first four games of the season, which was a pathetic punishment by most people's standards and instead of trying to make nice during the suspension he made the situation much worse by filming a terrible rap video.
This is clearly a man who doesn't understand how the world sees him and he refuses to open his eyes in that regard. The least NFL teams can do is make this guy really work for a job if they are going to give him one at all. He finished with six sacks and 23 tackles last year for the Cowboys.