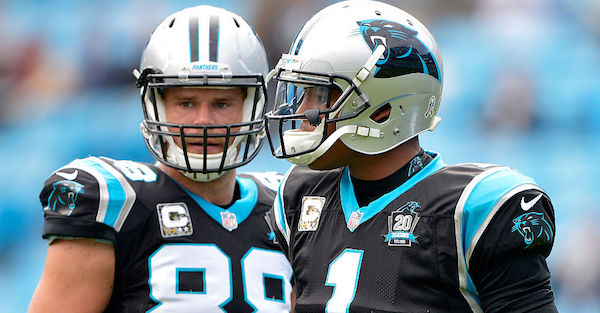 Grant Halverson/Getty Images
during their game at Bank of America Stadium on November 16, 2014 in Charlotte, North Carolina.
Since Cam Newton entered the NFL in 2011, his most reliable weapon on offense for the Carolina Panthers has been tight end Greg Olsen. Olsen has started all 16 games since 2012, and he's played in every game since 2007.
Olsen, 32, is about to enter the second year of a three-year, $22 million deal, and he believes he has outperformed that contract.
Olsen made an appearance on Adam Schefter's "Know Them From Adam" podcast. He and he wouldn't rule out holding out for a new contract during training camp.
No wonder. Olsen will pull down $7.5 million this season (that's his average base salary), and, according to Spotrac, that would would make him the seventh-highest paid tight end in the league. Olsen said it is "too early" to say if he will miss the start of training camp, but he did say he believes he can play another 5-6 seasons in the league. He told Schefter he would like to restructure his contract so it reflects his productivity, and went out of his way to say there is no animosity between him and the team.
"This is not by any means a toxic environment or a situation where the two sides seem fighting or anything like that. Has nothing to do with that. It's just strictly, business should reflect productivity, in our opinion," Olsen said, as reported by ESPN.
Related: One team ready to make its QB the highest paid player in the NFL despite never winning a playoff game
Olsen has surpassed over 1,000 receiving yards in each of the last three seasons, and he has caught 32 touchdowns since joining the Panthers in 2011.
With Olsen being Cam Newton's favorite target, it makes sense for the two sides to reach a new deal before the start of the 2017 season.