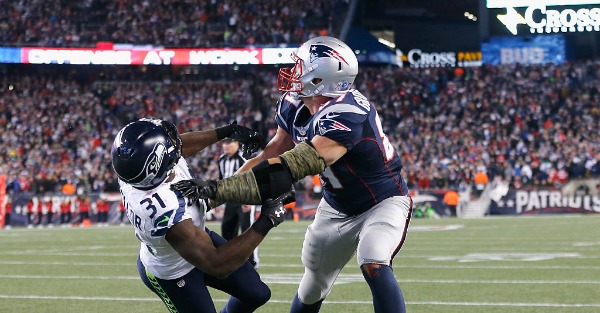 Jim Rogash/Getty Images
<> of the New England Patriots of the Seattle Seahawks during a game at Gillette Stadium on November 13, 2016 in Foxboro, Massachusetts.
The Patriots-Seahawks game Sunday night was virtually the negative image of Super Bowl 49.
The lead changed hands seven times and ended with a goal-line stand that gave the Seahawks a thrilling 31-24 victory. Pretty much everywhere you looked, the action was of the highest level. And according to Pats tight end Rob Gronkowski, that included the hitting.
Gronk admitted after the game that the hit he took in the second quarter from Seattle safety Earl Thomas was one of the hardest he's ever been on the receiving end of.
?Yeah, that was a big hit for sure; probably one of the hardest I?ve got hit in my career for sure. [It was] by a good player; a good fast player who?s like a missile. It was a good, clean hit; nothing against it. I just took it and it just knocked the wind out of me a little bit, that?s all. If you?ve ever gotten the wind knocked out of you, you know what that feels like. Just down for about a minute or two, it?s a little tough to breathe, but once it comes back, you?re good.?
RELATED: Seahawks hold on 4th-and-goal to stun Patriots
Gronkowski reportedly suffered a punctured lung from the play, but he is expected to only miss one game.
The Patriots play in San Francisco for their next game on Sunday.