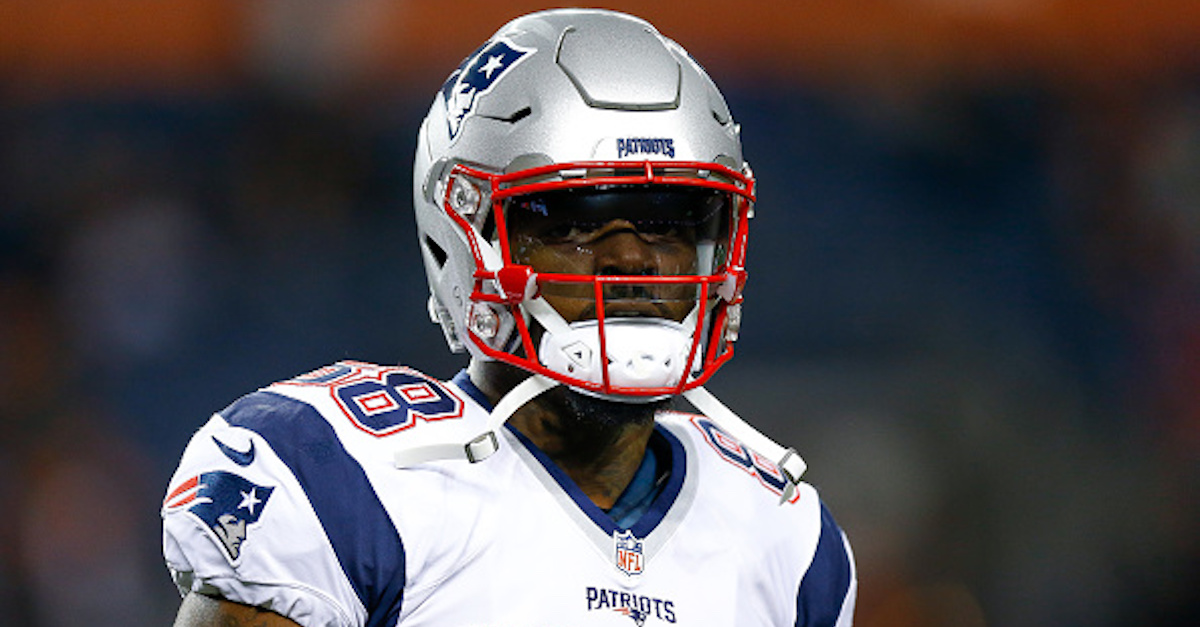 Justin Edmonds/Getty Images
DENVER, CO - NOVEMBER 12: Tight end Martellus Bennett #88 of the New England Patriots warms up before a game against the Denver Broncos at Sports Authority Field at Mile High on November 12, 2017 in Denver, Colorado. (Photo by Justin Edmonds/Getty Images)
The Green Bay Packers have moved on from tight end Martellus Bennett — now back with the New England Patriots — but it sounds like not having him around has made an impact on the team.
Bennett was largely a disappointment in Green Bay, catching only 24 passes for 233 yards and no touchdowns. He was expected to be a huge part of the Packers' offense — especially considering his size and Aaron Rodgers' ability to throw the ball — but Bennett never really clicked, and he certainly didn't help himself with a handful of dropped passes.
And then Rodgers got hurt, and the Packers started losing, and all of a sudden Bennett had an injury flare up. The Packers released him and that injury magically seemed to go away. To make things even more heated between the Packers and the tight end, he went on a social media tirade against the Pack's team doctor, someone who the Packers — including Rodgers — adamantly defended after Bennett said he forced him to play through an injury.
So yeah, the saga of Bennett's departure from Green Bay has been dramatic, and it doesn't sound like Green Bay's locker room has given their former teammate a pass. In fact, safety Ha Ha Clinton-Dix went as far as to say that Bennett quit on the team, according to Jason Wilde of the Wisconsin State Journal:
"At the end of the day you have to think of it as a business. Me, personally? I thought he quit on us," safety Ha Ha Clinton-Dix said Thursday. "I don't fault him, but I did think he quit on us. He let us down — as a teammate. For a guy that came in, of his caliber, his leadership quote-unquote, I expected more from him. I held him to a higher standard, me personally. But he handled it the way he wanted to handle it.
"I honestly think winning on Sunday gave us a motivation to go out every week (going forward) and compete. That was the hump we needed to get over — winning a game, first and foremost. That Marty stuff, I'm glad we got it out of the way. It's time to move on."
It certainly seems that Bennett leaving may have actually invigorated the Packers, believe it or not. Of course, the team is nowhere near the level it was playing at with Rodgers healthy, but even with Brett Hundley leading the way — this is a scrappy team that has apparently been rejuvenated and refocused by the way Bennett handled his departure.
Here's Clay Matthews:
"I think it definitely has the power to galvanize a locker room. Because it shows you – especially going through difficult times – it shows you who's in and who isn't," Matthews said. "We'll obviously discover that more and more as the season goes on dealing with our starting quarterback being hurt and having a few losses. But you're absolutely right: It brings guys together, like a refocus. It lets you know, 'All right, get rid of the dead weight, and let's focus on our locker room.'
The Packers cut Bennett, who was then picked up by the Patriots. He went on to catch three passes for 38 yards from Tom Brady  in the next game. The Packers beat the Chicago Bears 23-16 without the help of Rodgers last week.