During each NFL preseason, we're given the exciting opportunity to get a look under the hood and see the inner workings of a team's training camp as they prepare for the season thanks to HBO's Hard Knocks. From rookies and free agents hoping to make the team to veterans getting used to a new home, there's no shortage of intrigue — and every season provides us with a flurry of memorable moments. With the first episode of the new season of Hard Knocks airing Tuesday — featuring Aaron Rodgers and the New York Jets — let's take a look back at some of the most iconic moments in the show's 20-season history.
Vontae Davis Learns He Has Been Traded (2012)
In one of the hardest-hitting emotional moments of the series, fans were able to see the human side of the game as Miami Dolphins then-head coach Joe Philbin invited Vontae Davis into his office to inform him of a trade that had been made. Davis appears stunned and emotional in the scene, and his immediate reaction when Philbin asks if he's OK is to respond that he's going to call his grandmother.
As much of an emotional, human moment as it is, this scene serves as a stark reminder of the professional aspect of these transactions. Philbin tells Davis that he has to get moving at once so he can make it to his new home before a storm prevents flights from going out.
Just as Davis walks out, Philbin challenged him to "make it a positive" — and it seems that he took those words to heart. As a member of the Indianapolis Colts, Davis was one of the best cornerbacks in the game and made Pro Bowls in 2014 and 2015. It just goes to show that even when a change can feel like a setback, it can be the start of something special — one of the great lessons we can learn from football and, of course, from watching Hard Knocks.
The 2010 New York Jets
With the Jets coming back onto the show this year, let's take a look at some of the most memorable snippets from their last appearance, back in 2010. It's especially fun to look back at the footage after a team featured on the show has had a special season. And that's exactly what happened with these Jets, who knocked out one of the better Patriots squads of the era to the AFC Championship game.
One viral clip was that of star defensive back Antonio Cromartie attempting — and really struggling — to name his eight children. Cromartie claims that he had no trouble the first time and that production pushed for another take where he paused longer between names, but we'll never really know the full story. What we do know is that Cromartie now has 14 children, so things aren't getting any easier for him in that arena.
We were also given the opportunity to see then-coach Rex Ryan give the team a stern talking-to after a string of what he considered to be lackluster performances on and off the field. It's an awesome look into how coaches interact with their teams, and it ends with the famous "let's go get a [expletive] snack" quote. Ryan's speech clearly worked, as it spurred that Jets team to be one of the best in a very long time.
Ravens Rookie Show (2001)
Back in the inaugural season of "Hard Knocks," the rules for selecting a team were different, so we were treated to a feature on the defending Super Bowl champion Baltimore Ravens. In one of the earliest memorable moments on the show, Ravens rookies did their very best impersonations of Shannon Sharpe, then the team's tight end, in a fun example of rookie initiation and team bonding. Now that we've watched Sharpe on television for a long time as an analyst, we can appreciate the impressions even more.
Jameis Winston Being Jameis Winston (2017)
Jameis Winston is one of the most colorful personalities to
hit the NFL. From his famous "eat a W" and "we some dogs" speeches to the bizarre Publix crab legs incident, "Famous Jameis" is rarely far from the spotlight. So it was far from a surprise that in the 2017 Buccaneers season of Hard Knocks, there were a few nuggets of gold from the team's QB.
Winston takes the camera crew on a tour of his childhood home, starting with a room he says he shared with six other children. He also showcases the old and new family grills, noting improvement from the former to the latter. Winston demonstrates the joy of great outdoor tap water, and he quite correctly underscores the importance of keeping drinking water separate from the nearby makeshift outdoor restroom.
The quarterback's animated personality makes it quite the entertaining segment, and it gives us a look into where he came from — an origin in which he clearly has a lot of pride. Similarly, he gives a full rundown on which states are and are not part of the "Dirty South," including the distinction between North and South Florida. He discusses the importance of football in the region, showing us a perspective surely shared by many players across the league.
Corey Coleman Asks for a Trade (2018)
This one escalated pretty quickly, to say the least. The clip starts with the young wideout showing off his shoe collection, followed by a tough sequence of practice footage in which coaches discuss his performance in a negative light.
Not long after, Coleman walks into then-head coach Hue Jackson's office and demands to know why he's working with the second-team offense. He asks why the team wouldn't just trade him if they're not going to play him — and, apparently, the concept resonated with the high brass. He was moved before the season started and has not had a consistent role with an NFL squad since then.
Vince Wilfork's Texas Flair (2015)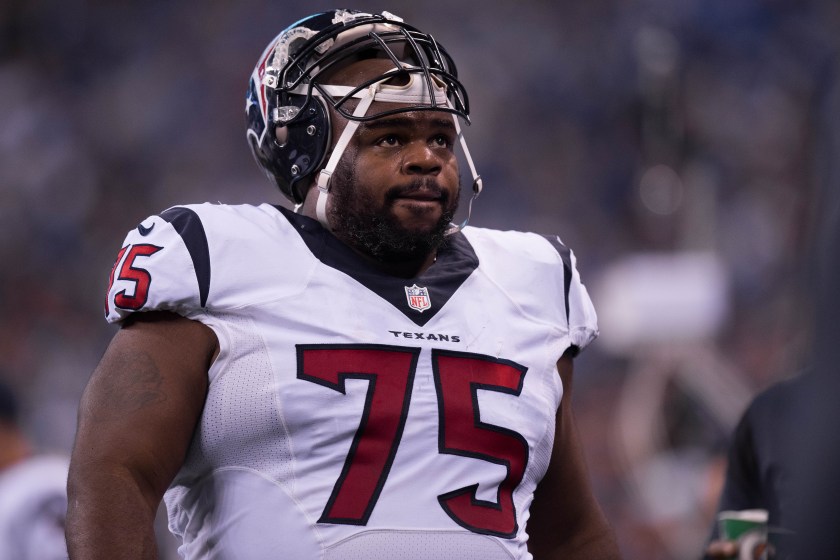 After a long and legendary tenure with the New England Patriots, Vince Wilfork moved on to the Houston Texans and wasted absolutely no time getting into the spirit of the area. The big nose tackle rolled up to practice seemingly wearing nothing but some custom denim overalls and a pair of cowboy boots. The overalls have come out a few times in the years since, such as the MLB All-Star Week celebrity softball game. But their television debut was a true sight to behold, and a very memorable moment from the 2015 edition of Hard Knocks.
Want More Sports News?
Get the biggest and best sports news sent directly to your inbox.