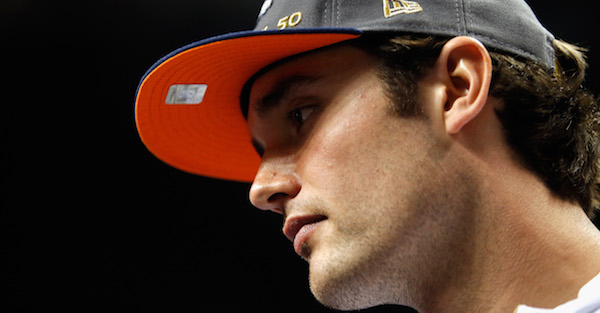 Ezra Shaw/Getty Images
SAN JOSE, CA - FEBRUARY 01: Brock Osweiler #17 of the Denver Broncos looks on at Super Bowl Opening Night Fueled by Gatorade at SAP Center on February 1, 2016 in San Jose, California. (Photo by Ezra Shaw/Getty Images)
Brock Osweiler was supposed to be the future of the Houston Texans, inking a four-year, $72 million deal as a free agent before throwing 15 touchdowns to 16 interceptions in Year 1.
But it evidently wasn't his poor play as the starter in Houston, it was a locker room explosion in Week 17 that ended Osweiler's tenure, per Pro Football Talk.
Tom Savage, who had taken over as the starter in Houston, had been injured and was shut down for the day. At halftime, Osweiler was reportedly told he was finishing the game in coach Bill O'Brien's office and an argument ensued. According to the report, Osweiler attempted to leave the room and O'Brien extended his arm to stop Osweiler.
According to a later report from 120 sports, the confrontation was "physical," with Osweiler and O'Brien needing to be restrained.
That was the moment, according to PFT, that the Texans decided it was time to move on from Osweiler.
They traded the starting quarterback to the Cleveland Browns, attaching a 2018 second-round pick to his bloated contract.
Osweiler was paid $37 guaranteed last season, and he's slated to make $16 million this season. He'll make $18 million next season and $17 million in the final year of his deal.
Before landing the massive deal, Osweiler put together a 5-2 record as a starter for the Denver Broncos, spot starting around Peyton Manning.
He threw for more than 2,000 yards, 11 touchdowns and six interceptions.