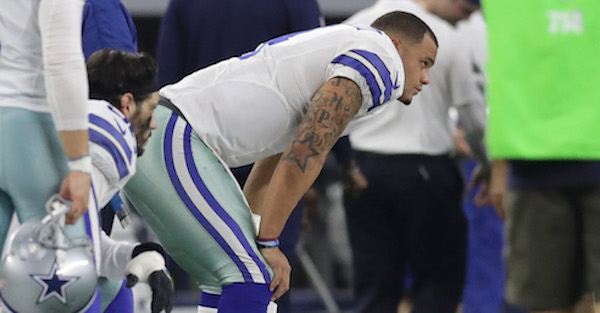 Ronald Martinez/Getty Images
ARLINGTON, TX - JANUARY 15: Dak Prescott #4 of the Dallas Cowboys reacts after losing to the Green Bay Packers in the NFC Divisional Playoff game at AT&T Stadium on January 15, 2017 in Arlington, Texas. (Photo by Ronald Martinez/Getty Images)
According to News 3 LV, what started out as two brothers watching the Dallas Cowboys-Green Bay Packers playoff contest resulted in one of the siblings stabbed to death.
According to the report. 40-year-old Justin Boyer (who was visiting from North Dakota) and 46-year-old Robert Boyer enjoyed the game and some drinks before the outcome of the contest had the two screaming at each other. A roommate reportedly separated the two before Justin Boyer attacked his brother.
That's when police say, per the report, Robert Boyer feared for his life, grabbed a knife and stabbed Justin Boyer in self defense, who later died at a hospital.
According to the report, Justin Boyer suffered from a mental illness and the loss to Green Bay triggered his anger.