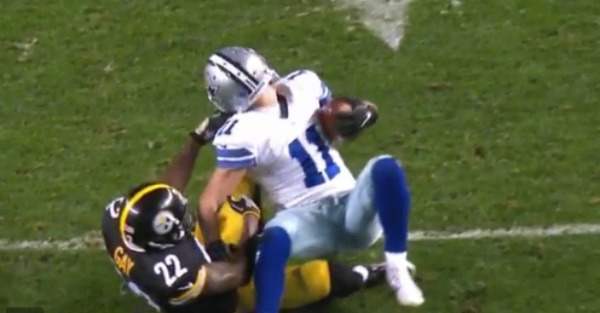 Twitter/Screenshot
The Steelers and the Cowboys played a thriller Sunday that ended with Ezekiel Elliott lifting Dallas to a 35-30 victory with a late touchdown scamper.
But it wasn't all smooth sailing for the Cowboys. Late in the game's fourth quarter, wide receiver Cole Beasley nearly had his head screwed off like a bottle of Pepsi by Pittsburgh corner William Gay. After catching a short pass from Dak Prescott, Beasley attempted to elude Gay, but the defender grasped his facemask and didn't let go.
The visual is downright frightening.
RELATED: Notorious Cowboys hater Stephen A. Smith almost didn't go to work after Dallas win
It was the closest thing you'll ever see on a football field to that scene in The Exorcist where the girl's head does a full 360-degree turn. Beasley's head did about 180. Thankfully, it looked much worse than it actually was, and he walked away uninjured.