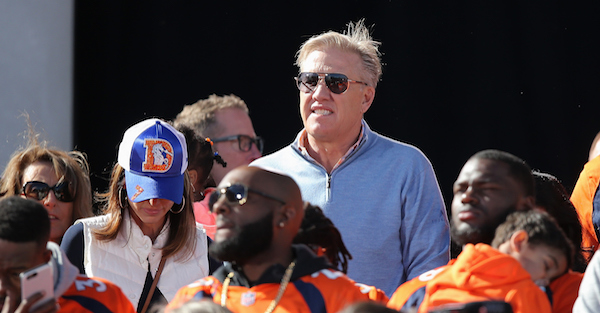 DENVER, CO - FEBRUARY 09: John Elway, Executive Vice President of Football Operations and General Manager of the Denver Broncos looks on from the stage as the Super Bowl 50 Champion Denver Broncos are celebrated at a rally on the steps of the Denver City and County Building on February 9, 2016 in Denver, Colorado. The Broncos defeated the Carolina Panthers 24-10 in Super Bowl 50. (Photo by Doug Pensinger/Getty Images)
Related: Broncos reportedly inquire about Tyrod Taylor
Conflicting reports claim interest in Johnny Manziel
---
No, Mark Sanchez isn't a guarantee to be the opening day starter for the Denver Broncos.
Despite their attempts, a trade for Colin Kaepernick might not actually work. And if not, according to Cleveland.com, the backup plan would be to find a way to get Josh McCown from the Browns.
The Broncos would need Kaepernick to take a pay cut in order to land in Denver, and the likelihood of that happening isn't high as of now. With Robert Griffin III on the roster and a quarterback likely being taken at No. 2 overall, the Browns can afford to cut McCown, or see what the trade market would bring in for his services.
McCown threw for 12 touchdowns and four interceptions last season with the Browns.
Cleveland.com also clarified that no, the Broncos aren't interested in bringing in Johnny Manziel, despite conflicting reports stating so on Thursday.