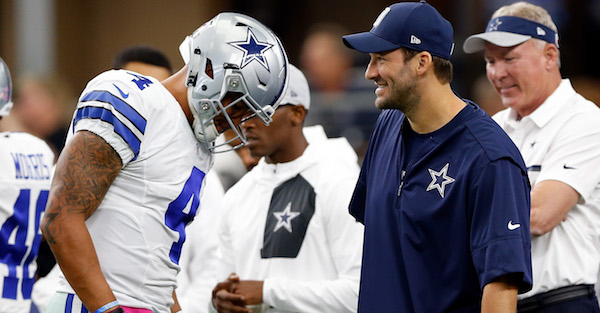 Wesley Hitt/Getty Images
ARLINGTON, TX - OCTOBER 09: (L-R) Dak Prescott #4, quarterback of the Dallas Cowboys talks with injured quarterback Tony Romo #8 prior to the game against the Cincinnati Bengals at AT&T Stadium on October 9, 2016 in Arlington, Texas. (Photo by Wesley Hitt/Getty Images)
The discussion on whether the Dallas Cowboys should start Dak Prescott or Tony Romo has been going on for weeks, and it has heated up again after Prescott has struggled in recent weeks.
Related: It only took one rough performance for fans and media to turn their backs on Dak Prescott
Many analysts ? including NFL Network's Brian Billick ? believe time is running out on the Cowboys if they want to make a change. Billick changed quarterbacks when he was the head coach of the Baltimore Ravens, as he benched Tony Banks in favor of Trent Dilfer. The Ravens went on to win the Super Bowl that season.
"This an absolute no-win for Dallas because no matter what they do, if they stay with Dak Prescott, anything short of a Super Bowl win: 'Oh you did the wrong thing,'" Billick said Sunday onNFL GameDay Morning First. "Well, the last two weeks have not been good.
"If this should continue ? and it's not necessarily all Dak ? but the thing I keep thinking is if I have in the back of my mind that Tony Romo maybe is the guy for us in the playoffs, I've got to give him some (playing time) before that. I got to get him in the game. That's not fair to Dak — that's if they have that in the back of their mind. You can't wait until a playoff game to say, 'OK, Tony, go win for us.'"
Week 17 reps for Romo would be the logical thing for Dallas to consider, but according to NFL Network's Ian Rapoport, those reps are more likely to go to Mark Sanchez. That doesn't make much sense for the Cowboys, even if they plan on starting Prescott for the rest of the season. If Prescott were to get hurt, they'd turn to Romo, and they wouldn't want him playing in a playoff game with no reps this season.
It's a situation worth monitoring, especially if Prescott continues to struggle down the stretch.
(h/t NFL.com)